The Pakistani woman who braved the Taliban's ban on women playing squash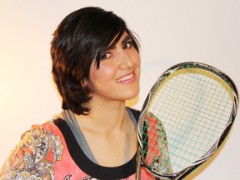 Ever wondered what fate might await a woman in Pakistan's Taliban infested area if she played squash — or any other sport for that matter? Stoning? Flogging? Beheading? Maybe! But there's one young Pakistani woman of Waziristan origin who has defied all the bans imposed by the Taliban on women playing sports and found her way to the international world of squash by taking a rather unusual path: she pretended to be a boy! Maria Toorpakai has gone on to become a veritable icon in the world of squash, making her fellow citizens and her country justifiably proud.
The Waziristan region in the northwest of Pakistan near the Afghan border has long been a battleground for Taliban militants and the army, and is notorious for the many strict tribal rules and restrictions imposed on the lives of its people. As an erstwhile stronghold of the Taliban, many of these prohibitions come from the Taliban themselves and carry severe penalties for those who fail to comply with them. Obviously, these bans and restrictions are particularly cruel and heavy on women who must stay at home, stay covered from head to toe, and of course must never ever work or participate in any kind of sport.
Even though conscious of all the dangers and consequences, Maria rejected such a lifestyle even as a child. She refused to wear girls' clothing and dressed as a boy instead. But her revolt wasn't limited to clothes alone, she also mixed and played with boys, pretending to be a boy herself. Recognizing her talent and warrior spirit, her father used to affectionately call her "Genghis Khan" and later encouraged her to pursue squash after seeing her prowess in weightlifting and other sports.
Maria took extensive training but midway through her training course, her secret came out, and soon it was a matter of urgent security for herself and her family. She was well aware of the dangers involved but still went ahead. She had rebelled against her tribe, challenged absurd and draconian bans and restrictions and invoked the righteous wrath of the militants. In a move to preempt the very real threat to her life, Pakistan's Squash Federation set up a special security unit to escort her from her house to the training courts. Though this enabled her to continue her training for a while, it sure wasn't a permanent solution.
The immense pressure she was under and her concern for the safety of her family and fellow players shook her conscience, and she had to choose between quitting the sport which was the love of her life or leaving the country to train in a safer environment. But you must have realized by now that Maria isn't exactly the type to quit and quit she did not! She started contacting squash training centers across the world and finally landed an offer to train with the the retired Canadian squash player Jonathan Power who had read her story and was astonished and impressed by her struggle.
Today Maria is a professional squash player who represents her beloved Pakistan and ranks as the world's 49th best woman squash player. Her incredible story is a true inspiration – and also a true example of the kind of bitter struggle working women in Pakistani have to face. Though not perhaps as  severe as Maria's saga, women in almost every professional field still have to face and tackle a huge number of challenges including harassment, bans and prohibitions, and other form of moral censure. Yet despite all this, women in Pakistan have still come a long way, challenging norms and taking things into their own hands and are now making a much needed contribution to the country's economy. We all hope stories like Maria's will continue to inspire women and men too, because we'd all like to see many more such success stories of courage and determination overcoming adversity against all odds.
HBO The Chosen One from Cassandra Rosenthal on Vimeo.
Tags: Canada, genghiz khan, jonathon power, maria, maria toor pakay, maria toorpakai, pakistan, squash, waziristan