Papua New Guinea: Move over corrupters, here comes the citizens!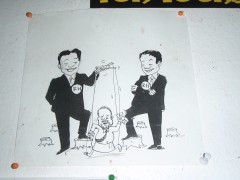 In a country like Papua New Guinea (PNG), you don't expect much from the government.
If you do, you will be disappointed.
You see, there is a problem when colonisation and Western democracy clash head on with the values and practices of a customary society.
The by-product of this collision is corruption.
Corruption leads to corruption. Corruption breeds corruption.
Photo taken by Author: Cartoon depicting PNG's former Prime Minister Sir Michael Somare being controlled like a puppet by Ramu Nico Mine officials
Just earlier this month an office of PNG's Anti-Corruption Taskforce Sweep was broken into and ransacked. Computers and case files containing details of investigations were stolen.
Over the last 1.5 years, the Taskforce Sweep has uncovered corruption among dozens of politicians, bureaucrats and businessmen. These have lead to criminal arrests.
The success of Taskforce Sweep's investigations worries those who are corrupt. On the other hand, it's reassuring for the citizens; including one million rural people who are deprived of basic necessities – they are the reasons why there needs to be an end to corruption.
Exposing corruption is at the core of the Namorong Report, a blog written by Martyn Namorong, a young political activist from the Western Province. He was awarded the 2012 Excellence in Anti-Corruption Reporting Media Awards for his dedication to uncovering corruption in government and in major business dealings.
I met Martyn in August 2011 in Madang. He was invited by the Bismark Ramu Group to blog about the court case between the Ramu landowners and Ramu Nico Mine.
Martyn was smart, sharp and social media savvy – the exact attributes that corrupters would fear.
At that time his blog had just hit 10,000 views – now the view count is 20 times that – and his posts were personal, emotive, factual and provoking. He wrote the truth; the kind of truth that a betelnut seller on the streets of Port Moresby (which Martyn was one before he became a blogger) or a subsistence farmer in the highlands ought to know but didn't.
The kind of truth that got swept away under carpets (probably imported carpets funded by overseas aid) of government offices. The kind of truth that got washed away in rivers and waterways along with the mine tailings. Gone. Kaput. Truth never seen or never heard.
Photo taken by Author
But the Namrong Report and other forms of online citizen journalism bring the real truth to the surface. Such form of journalism puts citizens – not the corrupters- in control. Citizen journalism allows people to ask questions, express their opinions, make demands and silence the lies, the cheating, the backroom dealings and other corrupt activities that have contributed to the suffering of so many rural and poor people in PNG.
In my opinion, citizen's control of the media is a powerful way to curtail corruption and to hold governments, bureaucrats and companies accountable. The future of the social contract between states and citizens will be turned upside down – if this is the way we are heading, corrupters – your time is up.
Tags: activism, blogging, citizen journalism, Corruption, GLOBALISATION, Governance, internet, mining, online, Papua New Guinea, social change, social media, Technology, youth unemployment