Poor women in cities: The journey called migration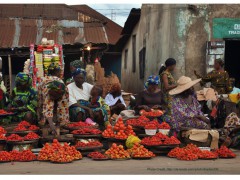 The first thing she notices are the streetlights; they don't have those in the village. The roads are nicer too; some still have potholes but they definitely can't be compared to where she's come from.
Ada* is in the city, where her dreams of going to a good school and making it big will come true. All she has to do is look after a couple children for her 'big aunty'.
She soon learns a few hard lessons though. Number one: looking after a child (or children) is a lot more tiring than she thought. Number two: the house chores seem never-ending Number three: the type of school she attends here isn't that much different from what she had back in the village. Number four: she didn't get hit this much in her father's house. And number five: if the fates are totally against her, "why does Uncle John keep looking at me like that?" You immediately know how number five will end.
There are three main routes to the city for most young women in Nigeria. Sometimes they make their own way there as young adults. Sometimes they have been groomed and harvested by a mother for her son who lives 'in the city'.
Other times though, as children or young teenagers, they are given to a relative who wants to 'help' them. This 'help' involves taking care of the house (and its residents which most of the time will include young children), or joining the family trade. This is in exchange for food, shelter, in some cases for an education and much less often for a kind of wage. But whatever they might get, the all-important thing is that they're now  'living in town'.
Talking about this kind of widespread  'exchange programme', Jo Becker, children's rights advocacy director for Human Rights Watch says, "to eliminate child labor, governments cannot ignore the children working in private homes. Many of these children are paid a pittance, if at all, and often suffer abuse and overwork. Governments can help these children by ratifying the Domestic Workers Convention", which, for the record, Nigeria still hasn't ratified two years after the International Labor Organization (ILO) first proposed it.
And Nigeria still hasn't ratified it despite the fact that "we have the highest number of delegates to the ILO meetings every year."
But to return to our story, and Ada. She gets to marriageable age (depending on the family's cultural background), and is most times taken as a wife by a man in the same economic class as her. Her options for gaining a livelihood range from petty trading and skilled labor (tailoring, bead making, etc.)  to hospitality (serving staple foods where any little space available is converted into a 'Mama Put').
Most of these women learn to be thrifty expert money managers, because that's what they have to do, manage. There are no college funds, no money stashed away for exotic holidays, no treats, and the number of mouths to feed keeps on increasing. Interestingly, they seem to have more children than middle or upper income families. This study by Theresa Owuamanam and Odunayo Alowolodu of the Department of Guidance and Counselling, Faculty of Education, University of Ado Ekiti Nigeria tries to explain why.
There is also no support from the government either as there is in Europe where healthcare is subsidized and lower income families are entitled to allowances from the government budget.
Education for her young children isn't even free at the free Local Education Authority schools because with one levy after the other, the schools extract money from the children to augment what they have received (or have been promised but not yet given) by the government.
Women empowerment schemes set up by the wives of public officials are a dime a dozen; every governor's wife seems to have a pet project, but somehow Ada hasn't benefited from any of them. And it isn't because she hasn't tried. She doesn't ever think of going back to her village though, where conditions might be harsher but where life is affordable, because her family would be stigmatized with failure. Her enemies would say she didn't have what it takes to make it in the big city.
So she stays put, and as she counts the takings from a long day's hard work, which will immediately go for various urgent family needs, she allows herself the fantasy of a tomorrow when her dreams of making it big will come true.
*Ada is a fictional name in a true story of the lives of many women in Nigeria.
Tags: Africa, developing countries, Fairy God, Nigeria, Nigerian Blogger, Poor women in Nigeria, poverty, women