The Public Sector and the Prospects for Real Economic Growth in Egypt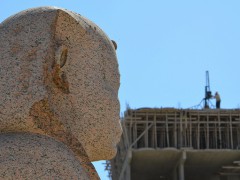 Throughout its contemporary history, Egypt has adopted different economic policies. Today, as the current government aims to achieve sustainable economic growth, an insightful analysis is required to highlight the main factors hindering Egypt's prospects for success in achieving this aimand to recommend a better approach to be adopted in the future.
In 1952, the private sector had the largest share of investment in Egypt, amounting to 76%. But by 1960, the beginning of the Five Year Plan (1960-65) adopted by former president Nasser, the situation had completely changed, and the public sector controlled 94% of total investment. This situation continued until 1974 when former president Al-Sadat started to adopt his Open Door Policy, aiming to encourage a higher degree of private sector participation in Egypt's economy. By 1990, the public sector's share had declined to 68%, leaving 32% for the private sector.
This brief background shows the fluctuations experienced by the Egyptian economy in terms of the governmental approach to the state's economic affairs. Today, even though Egypt is considered a market economy, the size of its public sector is still significant.
The size of the Egyptian public sector has several implications for its economic performance as government expenditures related to this sector are increasing on a yearly basis. This forces Egypt's different governments to seek loans from foreign states to finance those expenditures and distracts the government away from focusing on launching large projects that could reduce the rising rates of unemployment and result in more inclusive economic growth.
Statistically speaking, government spending had risen to 179,000 million EGP by the end of 2012 from 157,000 million EGP in 2011, according to the Central Bank of Egypt (CBE). A large share of this spending goes to the public sectorso the government can pay salaries, pensions, and retirement benefits to public sector employees, who currently number 5.5 million according to Egypt's statistics agency, CAMPAS. Accordingly, and because all those employees receive an annual raise in salary, Egypt's spending on public sector salaries has risen by 80% since the January 25 revolution in 2011.
The direct implication of this fact is the significant rise in the rates of unemployment in Egypt, which increased by 0.7% in the second quarter of 2013, reaching 13.3% of Egypt's total work force. Indeed, this alarming rate is due to the government's inability to launch any new projects that could employ some of those unemployed Egyptians. Instead, people turn to the private sector looking for jobs, where most of them fail due to Egypt's current instability, which discourages new investmentsand enlargements of existing private sector institutions.
The expenditure burdens also prevented Egypt's recent governments from spending more in crucial areas like education, which formed roughly 4% of total government expenditures in 2008, and health, which formed less than 6% in 2010.
In addition to these dismal percentages, it should be mentioned that the productivity of people working in the education and health sectors, public sector employees, is extremely poor. This is due to:
A lack of fully equipped health and educational institutionsresulting from the small percentage of expenditures they receive from the government, which barely pay the salaries of the employees.
A lack of motivation because of the relatively low salaries paid to the employees (of whom there are too many).
A lack of fear of punishment or dismissal among employees as the Egyptian bureaucracy and regulations do not state clear terms for punishing or dismissing employees in cases of poor work performance.
The case of education and health could be generalized to almost all public sector institutions, which constitute a financial burden on the government while providing poor services to the citizens.
The rising rates of unemployment, poor services provided by the public sector, in addition to the huge government expenditures on the public sector all impede any prospects for real inclusive economic growth in Egypt.
A rational solution to this crisis would include:
Cutting government expenditures on salaries by adopting a new monitoring and evaluation mechanism that compensates each employee according to his/her actual work performance and dismisses those who have poor performance records.
Using the funds saved on salariesto initiate new projects that employ a certain percentage of the unemployed and offer better services to citizens.
Encouraging Foreign Direct Investment and empowering the private sector, which could contribute to the economic growth by eliminating some of the governmental expenditures, hiring the unemployed, generating income for the government through taxes, and assuring more labor productivity than in the public sector.
Only then can Egypt achieve truly sustainable economic growth that is felt by all citizens.
Tags: budget, economic growth, economy, egypt, FDI, Government, private sector, Public Sector, unemployment