Rapid Urbanization: Lessons From the Hungarian Rust-Belt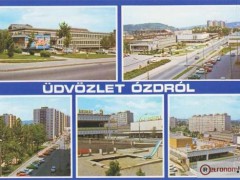 The rapid development of megacities is a characteristic feature of today's world. Megacities bring many positive changes to people's lives in developing countries; however, the negative implications of such unsustainable growth also weigh heavy in the balance. Given the changes and challenges that rapid urbanization produces, the recent past offers many useful lessons for megacities and as a case in point we would do well to consider the rapid urbanization process in Central Europe which began in the 1950s when Soviet industrial cities emerged all over the region.
The economic base of these industrial cities was forced industrialization boosted by the Soviet Union. This process was not built on supply and demand, but rather on long-term economic plans usually riddled with irrational data and following unsustainable networks of logistics, with non-market supply and distribution chains. No wonder that the collapse of the Soviet Union meant the end of these huge industrialization processes, long-term plans and logistic networks with devastating consequences for the newly founded industrial cities. The example of the so-called "rust-belts" – once flourishing then abandoned industrial regions left struggling with serious economic and social problems – may have important lessons that can be applied to the mushrooming megacities as well.
Soviet-model industrial cities in Hungary
Tags: Central and Eastern Europe, developing countries, Development, economic growth, Hungary, industry, Megacities, Ózd, poverty, rust-belt, Soviet Union, urbanization