Can West Africa Power Pool adopt off-grid lighting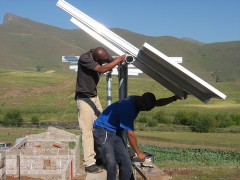 This article was originally drafted by Terfa Hemen and the Centre for Democracy and Development for the newsletter "West Africa Insight" as part of the Rockefeller Foundation's Searchlight Process. For more Searchlight content on futurechallenges.org, please click here.
Constant electricity supply continues to be a huge challenge for the developing nations of West Africa. Most West African nations have struggled since independence to put in place the necessary infrastructure that will guarantee power supply to the urban cities of the region. Poorly developed policies and deployment of infrastructure, acts of corruption and outdated technologies are responsible for the erratic state of power supply in these cities today.
Much of West Africa remains in the dark (by NASA Goddard Photo and Video via flickr.com CC BY 2.0)
On average, 76 per cent of the population in West Africa lacks access to electricity and spends up to 20 per cent of the household budget on kerosene for lighting1. As at 2003, demand for electricity supply was put at 6,500 megawatts with projections for it to reach 22,000 megawatts by the year 2022 with a growth rate of 7.6% per annum2 for the 15 member countries. These figures have barely changed in the last 3 years. In Nigeria, the attempt to provide electricity has led to wanton acts of corruption; recent claims by the country's president were disputed by citizens. In Ghana, the problem is not near any solution: the past 3 months from December 2012 to February 2013 have witnessed constant power outages that have had negative impact on businesses within the city centers. People whose livelihoods depend on the supply of electricity will continue to suffer. In light of the ever growing populations and that projected for the coming years, the cities of West Africa are likely to continue to suffer these power outages and in turn the people's livelihoods will also suffer in effect.
To address the problem the Economic Community of West Africa States (ECOWAS) in 2006 initiated the West African Power Pool (WAPP) created by Decision A/DEC.5/12/99 during the 22nd Summit of the Authority of ECOWAS Heads of State and Government in order to address the issue of power supply deficiency within West Africa. The vision of WAPP organization is to integrate the national power system operations into a unified regional electricity market – with the expectation that such mechanism would, over the medium- to long-term, assure the citizens of ECOWAS member states a stable and reliable electricity supply at affordable costs. This will create a level playing field, facilitating the balanced development of diverse energy resources of ECOWAS member states for their collective economic benefit, through long-term energy sector cooperation, unimpeded energy transit and increasing cross-border electricity trade3.
The West African Power Pool was guided by a Steering Committee comprising energy ministers of ECOWAS member states, supported by a Project Implementation Committee, comprising managing directors of member state utilities and Technical and Institutional Working Groups.4
Several years after the setting up of this body there is no end in sight to the problem of electricity shortages in West Africa. With the world economic situation and the rising population of West African cities, the future outlook looks far from certain. Except for a drastic turn around, the livelihoods of people in the urban centers would become more constrained than it is today. Recently, the Secretary General of West African Power Pool (WAPP), Amadou Diallo during an interactive session with newsmen in Abuja said the region would need about $26 billion to fix the erratic power supply in the coming years.
Two men installing solar panels (by Solar Electric Light Fund via flickr.com CC BY-NC-ND 2.0)
It is important, in light of this, for nations across West Africa to start planning for a future that would involve other alternatives to the capital intensive conventional modes of power supply. In this direction, the off-grid lighting as a means to power cities may be a viable option, if harnessed properly. A United Nations Environmental Programme (UNEP) report states that Nigeria alone could save $1.4 billion annually if the country adopted modern off-grid lighting system. Replacing the millions of kerosene lamps, candles and flashlights used worldwide with modern solar lighting can provide an increasingly low-cost solution to reducing carbon emissions, indoor air pollution and health risks, and boosting green jobs.5 In effect, West African cities of the future have the strong opportunity of being healthier for citizens.
The partnership developed by UNEP and Global Off-Grid Lighting Association (GOGLA) is timely and provides an opportunity for governments in the region and private organisations to tap into as they devise methods and strategies to power cities in West Africa using cleaner and cheaper means.
Solar LED systems in essence provide a huge opportunity for the West African cities of the future, they have the potential to create jobs, provide cheaper energy, cleaner energy and protect the eco-systems. It will therefore be wise if policy makers start realigning their intentions to power cities through this means. The socio-economic and natural state of the region may depend on this.
Sources:
1.http://www.environewsnigeria.com/2013/02/21/off-grid-lighting-how-nigeria-can-save-money-oil-unep/
2.http://www.thenewdawnliberia.com/index.php?option=com_content&view=article&id=1580:less-than-30-access-to-electricity-in-west-africa&catid=25:politics&Itemid=59
3. http://www.ecowapp.org/?page_id=6
4. Ibid
5.http://www.environewsnigeria.com/2013/02/21/off-grid-lighting-how-nigeria-can-save-money-oil-unep/
Tags: ECOWAS, Electricity, Energy, ghana, Nigeria, west africa