Community Handicraft Production in Thailand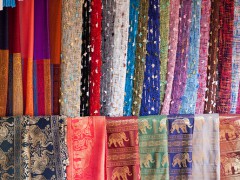 This article was originally drafted by the Strategic Foresight Group for the newsletter "Asian Horizons" as part of the Rockefeller Foundation's Searchlight Process. For more Searchlight content on futurechallenges.org, please click here.
In recent years, the production of local handicrafts unique to the ethnic communities in Thailand's poorest regions of the Northeast has received a boost due to a number of initiatives by local NGOs and government. The projects have the potential to generate employment amongst women and poor communities, thus providing economic sustainability in the long run.
Textiles made by ethnic minorities in Thailand. (By Brian Jeffery Beggerly from flickr.com CC-BY 2.0)
Estimates state that Thailand's craft export will reach USD 600 million in 2012. A majority of the handicraft production is situated in the Northeast of Thailand, populated by hill-tribe ethnic communities which are historically poor. Government and NGO initiatives are turning these handicraft products into income generation opportunities for the local communities by marketing the products on the national and international level.
In May 2012, Thai NGO, Women's Education for Advancement and Empowerment (WEAVE), inaugurated a fair-trade showroom in the northern Mae Hong Son province to sell handcrafted items by refugee women artisans on the Thai-Burma border. Through its Economic Empowerment and Development Program, the organization supports women's groups from the indigenous Karen, the largest of Thailand's six ethnic minorities groups, known for their unique weaving patterns and designs in handicraft production. Over 1,200 artisans have been trained in weaving and embroidery skills and more than 700 women have become home-based entrepreneurs through the project. In the Northernmost remote region of Chiang Rai province, Thai NGO, The Mirror Foundation, established E-Bannok Handicrafts Project in 2002, which encourages communities to transfer their traditional art skills into modern products in the form of artwork, jewelry, and clothing. Customized products are sold through the E-Bannok handicraft shop, proceeds from which are re-invested into the local communities.
A Karen woman using a traditional loom. (By Momo from flickr.com CC-BY 2.0)
The Thai government is also taking initiative to boost the local production of handicrafts. In 2010, it collaborated with Bangkok based King Mongkut University of Technology Thonburi (KMUTT) and World Intellectual Property Organization (WIPO) a UN agency, to copyright three products of Thai culture. Artisans from Central and Northern Thailand renowned for the production of wicker (Bang Chao Cha village), cotton textiles (Ma Chaem village) and brocade silk (Lampoon village) were trained to develop a standard mark to copyright and brand their products. The registration of these products under Intellectual Property Rights is expected to help the community build their reputation as the producer of distinctive, high-quality products. The government, in 2010 also introduced a new handicraft brand "TOPOTOP" to standardize 109 handicraft products for international exports. The brand will promote the government's One Tambon (village), One Product (OTOP) program, which supports around 36,000 community handicraft groups in form of technical assistance and advice.
Most of the communities in Thailand do not produce craft products for commercial purpose. Local level and limited production prevent its capitalization on national and international level. Development of handicraft production for retail marketing could boost this trend. Foundations can be knowledge partners in providing customized training for specific community handicraft production. They can also aid in marketing and branding training to artisans for certain unique handicrafts thus increasing their market value.
Tags: communities, Development, handicrafts, poverty, pro-poor growth, sustainable development, thailand