Development effectiveness of corporate social responsibility: Big-push interventions with a sunset clause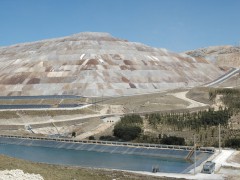 This article was originally drafted by Fernando Prada and the FORO Nacional Internacional  as part of the Rockefeller Foundation's Searchlight Process. For more Searchlight content on futurechallenges.org, please click here.
Extractive industries have a large impact in the areas where they operate. Companies should take a business approach for the development of the area of influence: a large one-time investment to mobilize local resources and strengthen government and social organizations to effectively lead a development process.
The Canadian government has recently launched a request for proposals for the Local Fund for Social Responsibility in Peru, Bolivia and Colombia under their CAN$26 million Andean Regional Initiative (ARI) 2012-2016. The approach, if validated in the field, could contribute to transfer knowledge from the Canadian International Development Agency (CIDA) to Corporate Social Responsibility (CSR) agencies of extractive industries, particularly mining companies.
An industrial mine in Carachugo, Peru. (Photo by Carlos Olivares from flickr.com CC BY-NC 2.0)
This initiative reinforces two trends. First, bilateral cooperation agencies are finding new ways to advance in the development effectiveness agenda while reducing their operations in middle-income countries. ARI funds require that for each dollar invested in a specific project (up to CAN$500,000), a company should provide at least an additional 40 cents. In general, the fund is targeting mining companies interested in promoting the development of vulnerable communities with a sustainable and equity approach.
Second, some areas at risk of social conflicts in the Andean region share common patterns: extractive industries are involved; fiscal income has increased but local governments and institutions are weak, and in many cases, administrations are corrupt; the population in surrounding areas is generally poor and vulnerable; industries are putting pressure to common resources such as water and land; and any other economic activity is dwarfed by mining operations.
In Peru, this situation provides a strong case for companies to collaborate at promoting democratic governance in areas where they operate. The Ombudsman's Office in Peru has identified 23 conflicts where the population explicitly requests the mining company to finance development projects —almost all living in areas where the presence of the state is scarce and there are great inequalities that mining activities tend to exacerbate.
Miners in Potosi, Bolivia. (Photo by Jenny Mealing from flickr.com CC BY 2.0)
Can the private sector provide the start-up financing to mobilize domestic resources and improve living standards in their areas of influence? The evidence shows that it has been possible, for example in the case of the Quellaveco mine in Moquegua, Peru. Anglo-American, a mining company, is setting up a US$330 million development fund and committing to mitigate the impact of its operations. Sometimes, local governments request support to CSR agencies to improve public management, and these requests configure a framework for local CSR activities. Nevertheless, there are not established protocols and these accomplishments are still an exception to the rule. A recent survey of 108 executives of companies with CSR programs in Peru indicates that most common CSR activities are donations, volunteering and sponsorship, while only one third categorize CSR activities as social investments.
CSR programs should be more proactive and determined.  The private sector has incentives to invest in building a functional government on the other side of a negotiation table, and a strong civil society to follow up on agreements. Therefore, CSR programs could work under a transparent protocol with local governments to support local investment. During the next five years, private companies will contribute to creating a friendly environment for their businesses through big-push interventions in a fixed period of time or with a sunset-clause. This type of intervention seeks to create capacities and mobilize resources from the public sector and citizens.
Private companies' support of local governments is considered taboo and for good reasons. Some institutional arrangements could reduce conflicts and promote trust: an independent financial trust for development projects; a foundation working with civil society organizations; or support to investment from participatory budgets, among others. In order to avoid future problems, governments should start thinking about designing a protocol with clear mandates, goals and timeframes where private companies can work with communities and local governments to improve the development effectiveness of their CSR programs and public investment.
Sources:
1. Alcalde, G. "Empresas privadas y gobernabilidad democrática en el Perú", forthcoming article in the journal Stakeholders
2. El 58 por ciento de empresas carece de jefe de responsabilidad social", Diario Gestión (07/23/2012), p.31.
3. In other regions, the private sector has been experimenting with new approaches such as "social impact bonds"—a financial instrument that allows private companies to invest in public policy goals in order to obtain as benefits what the public sector could save by subcontracting the private sector or avoiding a bad situation in the future (a counterfactual). This idea needs infrastructure and knowledge —estimating benefits using impact evaluation techniques, calculating shadow prices, among others— not always available for small local governments.