Spanish Youth Look for Jobs in Mexico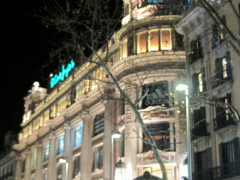 The youth unemployment situation in Spain is disturbing: more than 50% of young people (between 18 and 30 years old) are unemployed. This has caused a strong immigration wave of Spanish youth to Latin American countries, especially Brazil and Mexico. During the first half of 2012, the number of Spanish who were allowed to work legally in Mexico increased by 34.6%, according to the National Immigration Institute of Mexico.
One of my best friends, Catalan by birth, sent me an email recently explaining his living situation in Barcelona. He is 24, a recent graduate of political science, multilingual, and unemployed. When I read his letter, I felt a personal emptiness as I could imagine myself in his position. I felt his story had to be told, as it represents thousands of professionals in the same situation. I asked for his permission to publish his email and he allowed me to reveal his story in order to raise international awareness of what some European, especially Spanish youth, are going through.
Here are some excerpts from his letter, translated, without any other modification:
"Last week I went to 5 interviews, all of them for low profile jobs. I was so desperate that I began to look for positions that asked minimum secondary studies and even those with "uneducated" labels. All my interviews were a disappointment. Some jobs were salesmen positions (even if now with the crisis it is impossible to sell something in Spain), no base salary – only commissions – and freelance contracts where you have to pay social security and unemployment insurance. The truth is that for a recent graduate it was very demoralizing. Right now I am dedicating myself to see if I can get free collaborations in magazines to keep me updated with academia."
As the letter mentions, professionals are applying to work for low wages, and yet they are not being selected, as employers simply get too many applicants for the number of positions available.
"Mercadona (supermarket) staff called me. My eyes lit. I went to the interview and was told that if they did not call me before Wednesday the company was not interested in me. I knew they would call me, because besides having experience by working with them, I have had many jobs like that one and I thought it would be easy. They never reached me. Eventually I called, and for me it was the straw that broke the camel's back. It is ridiculous to have to say that working in a supermarket has become a luxury now…"
Youth who had worked during the summers in temporary jobs today see these low wage opportunities as a permanent source of income throughout the year. Still, the vast majority have not been employed because of the actual employment cuts.
 "After that, every day I felt so bad to the point that I was not hungry at all. I stopped eating for three days, I lost weight, three kilos by now. When I realized what was happening to me I became a little alarmed. Also because when I was on the train, on the street, out for a run, or being in my house, I started crying. I felt impotent. This had never happened to me. After a couple of days thinking, I have told everyone that I've made a decision. I will go to Mexico for opportunities; I have decided that February is the month of arrival. Now time will tell how I can get the money and how I can organize myself so I can leave this place. But my decision has been made."
Tags: Mexico, migration, spain, Spaniards in Mexico, Spanish Youth goes to Mexico, unemployment