Stuck Between Paradigms: Why Bhutan Must Pursue the Path to Self-Reliance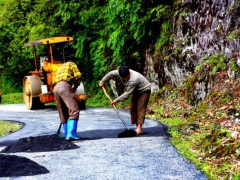 For a small nation of 700,000 people, Bhutan is a country of big aspirations – its people aim at nothing less than spearheading a new development paradigm that balances material wellbeing with the spiritual, emotional and cultural needs of society. This balancing act is not an easy one; when you're a small nation stuck between the two economic giants of India and China – and dependent on one of them – your independence in decision-making is always open to question.
This became painfully obvious during the July 2013 elections when India, Bhutan's largest aid and trading partner, almost inexplicably withdrew its gas and kerosene subsidies to Bhutan. While representatives from India claim the withdrawal was due to changes in budget cycles, many in Bhutan suspected it to be merely Indian intervention in Bhutanese politics. Sure enough, the previous ruling party, Druk Phuensum Tshogpa, which 'shook hands' with the Chinese Premier in Rio (to the alarm of Indian diplomats), faced accusations of straining Bhutan's sacred ties to India and was punished in the polls as a result.
Whether it was a deliberate intervention or not, the incident has made Bhutanese acutely aware of their dependence on their big neighbor.
And, to be sure, since the very beginning of its entry to the global economy, Bhutan always has been dependent . When it became a monetized economy in 1974, it pegged its currency, the Ngultrum, to the Rupee. The currency arrangement facilitated Bhutan's free trade agreement with India, served to keep the costs of Bhutan's imports low (with Bhutan being the net importer), and lowered the financial costs of repaying Rupee denominated debt.
The downside of this arrangement is, as Bhutan is experiencing today, that the country also imports India's inflation and has limited autonomy over its monetary policy; where the Rupee goes, so does the health of Bhutan's economy.
What does all of this have to do with pursuing a new development paradigm? Well, for one, Bhutan's growing debt and current account deficit limits its ability to actually balance its development on more holistic dimensions (the social, the environmental, etc.). Whether it likes it or not, Bhutan has entered the 'old paradigm' game of GDP-based growth, and with the new ruling party aiming for an astonishing annual GDP growth rate of 10% p.a., the debt-to-GDP ratio (currently at 89%) only promises to go up even further as Bhutan continues to borrow to accommodate growing public and private expenditure. Eventually, these debts need to be paid back (lest Bhutan become another Greece!).
Many experts have described most of the country's debts as self-liquidating (as 70% of the debt is tied to capital investment in hydropower projects which should pay off by 2020). However, Bhutan's narrow economic base and limited private sector puts the economy at "moderate risk of distress", according to the World Bank. Bhutan can reduce the risk by liberalizing the economy and allowing for more foreign direct investment – but how can it do so without compromising the integrity of its new development paradigm?
The only answer, perhaps, lies in a vision that the Fourth King foresaw almost forty years ago. Weary of Bhutan's transition from a traditional self-reliant society to an increased dependence on external aid, His Majesty voiced his concerns in his coronation address in 1974: "The most important task before us at present is to achieve economic self-reliance to ensure the continued progress of our country in the future. Bhutan has a small population, abundant land and rich natural resources, and sound planning on our part will enable us to realize our aim of economic self-reliance in the near future." (This goal is reflected in Article 9.9. of the Bhutanese Constitution)
This does not entail abandoning growth; rather, it requires preventing runaway growth in credit and aggregate demand. And, to the greatest extent possible, Bhutan may have to withdraw itself from the global economy by limiting trade to domestically unavailable necessities (such as salt), substituting imports (such as certain manufacturing and vegetable imports) and building local economies through structures such as cooperatives.
Small nations like Bhutan can't have their cake and eat it, too; the increasingly unequal system of global capitalism simply won't allow it. What is at stake is not just Bhutan's vision of a different kind of society, but its very sovereignty as a nation.
Tags: BHUTAN, economic self-reliance, new development paradigm, sovereignty, sustainability