The Challenges Women in Micro Entrepreneurship Face in Africa.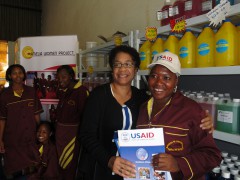 In a recent interview with Arthur Levi – former head of the World Bank's private sector arm, International Finance Corporation (IFC) Europe. He stated: The key to development in Africa is local entrepreneurship, but this can only flourish in an environment that is transparent and which supports businesses.
Back to the question – What are the key challenges for African women in Micro Entrepreneurship?
Business in Africa is crucial because it is one of those ways though which women can help to alleviate themselves from poverty. But for the businesses to make an impact they have got to be done well and a lot o sacrifices made for them to happen.
Businesses are not for the faint-hearted either. I was part of a very interesting conversation that took place in Kampala on 2nd March 2013 "Bridging the Gap for African Women in Business – Can women be part of the Multi National Corporation Supply Chains?"
If so, what does it call for? These are some of the answers that were put out there:
Resilience:
One of the women that was a part of this conversation owns and runs a rose farm, Perfect Roses Farm Ltd in Uganda. She was there to say: Yes to the questions posed. Hope Kabirisi started her farm on a salary loan. "I started out with 20 million shillings loan that I added to my savings to get 50 million Uganda shillings to begin my farm. My bankers would not give me the loan, so I had to switch banks"
"When it was time to import my first stems, I take them to the airport on a boda boda [motorcycle taxi]." Today she exports up to 250,000 stems to Europe. If she had cared about what people would say when they saw her headed to the airport with rose stems headed for export: the story would be different.
Sustainability
Uganda has got one of the highest biggest acumen in Africa, but the sustainability is poor. There are so many businesses that are started but never get to see their second birthdays.
It is not that the businesses are not brilliant ideas, it is because they are not sustainable. Maria Odido owns and runs Bee Natural, a honey producing company has 83% market share in Uganda and 6 % market share in Kenya. She too was a part of the conversation: "I'm a local investor. For that reason a sustainable business project for me is of high importance. Africa rightly relies on foreign direct investments. However, our role as local investors is even more important. We understand our communities better, are more in touch with their realities and are able to understand their intricacies."
It is not about whether you are a man or woman when you start the business. It is about being relevant and
Quality:
Dorothy A. Tuma is a business development and international trade consultant. She was part of the conversation as well. Her advice has always been : "Women need to venture out and develop a more market driven business mentality". That way they are able to ensure the quality of their commodities that they put on sale is good. She encourages talking courses on business planning and learning more about what is expected of one while in business. The transition from the informal business sector to the formal business sector will be easier thereafter."
The small time entrepreneur will know little about business at the start. But after they learn and go through some professional training, it is no longer about survival. They make the transition from the informal to the formal sector and in the long run have a professional organization exporting to three or four foreign markets with twenty times the revenues she had before.
Whether it is to be a part of the Multi National Supply Chains or it is about supplying commodities to a local restaurant in your home area , women need to know that quality, sustainability and resilience in business are important.
In the words of Diane Mariechild: "A woman is the full circle. Within her is the power to create, nurture and transform." Even so with business.
Tags: Africa, developing countries, Development, Good Governance, IFC, International Finance Corporation, Kampala, Kenya, Multinational corporation, Uganda, United States Agency for International Development