The Cultural Games: Africa at the Olympics 2012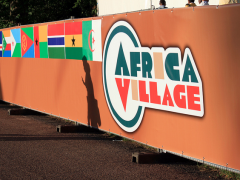 Africa Village brings diverse African culture to London this summer.
The world converges in London this year, with the Olympics acting as an extraordinary inter-cultural extravaganza. In parallel with the Olympics, a rally of cultures runs through the city. Despite heading to London to cheer on their countries, tourists engage in a bigger game this summer; exploring world ethnicity.
With an influx of visitors pouring into the already overwhelmingly cosmopolitan London, the streets are now carrying citizens from across the map. But as you walk past a strange face, catch a glimpse of a fellow countryman, listen to exotic accents and foreign languages, how much of that 'other' culture do you really get to know?
Capsules of images that have been circulated and re-circulated in the media are neither confirmed nor refuted by a brief sighting of the subject of that image on a bustling London sidewalk. But what if, there was an entire village dedicated to getting to know the man behind the image?
Africa Village, located in the heart of London at Kensington gardens, exposes African arts and culture to a dynamic audience. Exhibiting a taste of African culture through fashion shows, folk music concerts and masses of art to tourists from around the globe, Africa Village is a great way to help bring the continent a little closer to a European audience.
The village turns African players from opponents or foreign competition into representatives of a deep and diverse culture worthy of a second glance. The goal of participating in sporting events such as the Olympics may be to win, or break a record, but the underlying outcome may be, ultimately, to learn. And in the game of cultural exchange, everyone comes out a winner.
Africa Village was conceived by the Association of National Olympic Committees of Africa (ANOCA), to serve as a window on the continent's multi-layered culture. Algeria, Angola, Cameroon, Central Africa, Congo Brazzaville, Cote d'Ivoire, Egypt, Ethiopia, Gabon, Ghana, Guinea, Equatorial Guinea, Libya, Morocco, Nigeria, Rwanda, Senegal, Togo, Tunisia, and Uganda will all participate in Africa Land, showcasing their unique cultures to fellow Olympic players and tourists alike.
Cultural exchange is a major spectator sport this Olympics; London also hosts a number of other villages in parallel with the Olympics, such as the Brazilian, Czech, French, Jamaican, Qatari, and Russian houses, among other, that showcase different parts of the globe.
Boasting their distinct cultures through assortments of artistic expressions, such as dance, artwork, and film, different countries engage in a context of cultural exchange through art.
In today's interconnected world, art is a major tool for cultural exposition. For example, last summer, London brought African and Arab Culture to the city's cosmopolitan audience. Shubbak: A Window on Contemporary Arab Culture, was a festival celebrating Arab art and culture compiled an inspiring, vast catalogue of talent from the rapidly transforming region. A window on contemporary Arab culture, the festival provided insight into the tumultuous region, affirming the vibrancy of its cultural scene.
Walking down the streets of London on any day of the year, you are overwhelmed by the multitude of languages that infiltrate your ear. A promenade through a multitude of cultures, London is an apt setting to explore diverse cultures further.
This summer, Africa Village provides a certain cultural experience that could act as a step to bridging gaps between European and African culture. Many tourists may never have heard of countries such as Gabon, Rwanda, or Nigeria but now they get the chance to meet Africans in the flesh, listen to their music, eat their food (who doesn't enjoy exotic food?!) and experience their culture.
It almost seems as if by visiting London this summer, tourists tour the globe.
Tags: Africa, Africa Village, African culture, Arab Culture, art, Association of National Olympic Committees of Africa, Culture of Africa, Equatorial Guinea, London, Olympic, Olympics