Internal Migrant Workers in Delhi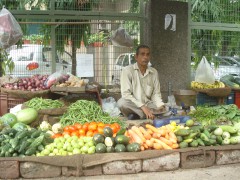 "I was just twelve years when I came from Uttar Pradesh (a northern state of India) as a migrant worker with the help of a relative," says Ram Charan Yadav my neighbourhood vegetable vendor. He sits outside my apartment complex and claims to have been selling vegetables here for the last twenty six years. I have seen him there for the last eight years ever since I first moved to this locality.
Seeking better work opportunities and a burning desire to do something in life brought him to Delhi in 1976. Ram had no idea then that he would be working in Delhi for so long. His wife joined him a year after his arrival and now Delhi seems like his home. His initial days were tough when he started out as a fabric block print worker.
Although Ram gets nostalgic thinking of his home in Azamgarh, Uttar Pradesh, he says he cannot go back as there is no work for him there. The only option would be to work in the fields which he doesn't want to do. His old mother lives with his brother and his family. He puts up in a nearby area called Govindpuri. His daily routine is visiting the Azadpur vegetable market to stock up on fresh vegetables which he sells at a slight profit, and activities like procurement, transportation, cleaning /washing, sorting, arranging and dealing with customers.  His saves about INR 2500 ($45) every month after expenses. He complains about harassment from municipal bodies sometime and wastage  of vegetables due to lack of storage which  leads to a loss of business from time to time. Otherwise,  he says he is happy.
He is just one internal (rural to urban) migrant worker among the millions that come to Delhi. Everybody is not as fortunate as Ram. Many live in appalling conditions in overcrowded slums where safe drinking water is scarce and sanitation nonexistent. Often subject to violence, they keep moving in search of better employment. In India the unorganized or informal sector includes vegetable vendors, rag pickers, construction labourers, factory workers, sweepers, car cleaners and domestic helpers, the majority of whom are migrant workers. Although they account for a large percentage of the employed population, they rarely figure in major discussions.
Delhi is the melting pot for migrant workers whether in the organized or unorganized sectors. The lack of opportunities in rural India makes people flock to the cities, and especially the national capital, in search of a better life. More than 200,000 people migrate to Delhi every year. The bulk of migrants are from the neighbouring states of Uttar Pradesh and Bihar followed by migrants from states like Rajasthan, Haryana, Punjab, Uttarakhand, Odisha, Chattisgarh and Assam. Many claim that the influx of migrant workers from various cities in India is pushing the city to its limits and it does indeed put a tremendous stress on Dehli's infrastructure. The migrant population is often blamed for causing the population explosion in urban areas. However, in Delhi and many other cities in India this is not the case. The change in demographics is rather due to natural growth (people having children).
The various roles taken by migrant workers from delivering fresh fruit and vegetables to our doors, cleaning our cars, collecting our garbage and  doing our domestic chores at very reasonable rates have made our lives so much easier and their contribution should not be overlooked. Instead of blaming migrant workers for crime, population increase or stressing the infrastructure shouldn't the government try and do something to improve their lives?
Tags: Delhi, internal migration, labour migrants, migrant worker, rural areas, urban areas, vegetable vendor