The Mexican Energy Dilemma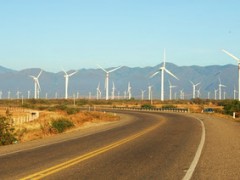 Increased environmental awareness and business opportunities have begun to foster new attempts to introduce alternative energies into our daily lives. While the world still relies mostly on traditional energy sources such as coal or oil, growing trends point toward innovation in fields such as geothermic, wind, hydroelectric and solar energies for future investment.
Mexico has desperately tried to be a leader in energy innovation despite it being the 7th largest oil producer in the world. Oil currently accounts for 80% of Mexico's total energy consumption while just the other 20% comes from domestic alternatives from Mexico's rich natural resources.
It is assumed that Mexico will run out of oil in 10 years if drilling continues at the same rate. Rather than relying on a finite and depleting resource, Mexico has the potential to become a leader in clean technologies, moving gradually from being a privileged oil producer to becoming a respected alternative energy supplier.
Because Mexican energy is mostly under governmental jurisdiction, so far the Mexican government has been the main actor trying to stimulate innovation. There has been some transnational investment and support of organizations such as the World Bank and the UNDP, while the private sector remains relatively inactive.
In Mexico, governmental alternative energy investment has started to be strategically spurred mostly by consumer demand. Instead of only building new big facilities, programs such as the SIEPCRM planned by the SENER, consist in creating energy sources such as solar cells, wind turbines and micro hydroelectric plants that will provide long-term benefits in financing energy for marginalized communities.
Additionally, a huge research net has been created with the help of institutions such as the UNAM, IIE and IPN, where not only alternative energy sources are being explored for economic benefits, research is being conducted to determine the real energetic potentiality of Mexico.
The problem is that the existing effort on technological research is not enough. Furthermore, restrictive national laws and regulations have eliminated the incentives for the bigger private sector to make a strong investment on the energy issue. It is illegal, for example, to sell or purchase energy to particulars (even though generating your own energy is possible), thus giving the government a defining role when dealing with energy production.  In addition, considering the current economic situation in Mexico, to immediately increase its investment in that sort of infrastructure would probably be very difficult without paying less attention to other important domestic concerns.
Mexico has two possibilities looking forward: either reformulating its laws in order to attract all the possible investment, or focusing in the traditional oil market for earning money while working hard on educating the people to seek for long-term benefits by investing in their own small sources of energy for their homes and encouraging small enterprises into exploiting alternative energies locally, making it easier to gradually move from the traditional methods into an era of alternative energies, where the investment needed for finalizing the transformation will be dramatically smaller.
Daniel Kapellmann is a member of Global21, a student network of international affairs magazines and a partner of FutureChallenges.
Tags: alternative energies, Energy, ENVIRONMENT, hydroelectric plants, innovation, Mexico, Oil, solar cells, wind turbines