The Migration Effect: A "Hybrid" Culture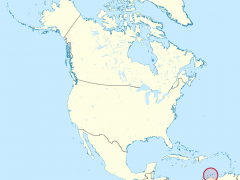 In the age of migration and globalization, it is often argued that we need to remember where we come from. Whenever people ask me about my roots, I catch myself thinking twice. Where do I actually come from? The answer indeed is quite complex. I was born and raised on a small island in the Caribbean, Curacao, which most people have never heard of. It was my home for 18 years. I grew up there, went to school there, and I love local music, food, festivities and most of all the way of life. Despite this, my family isn't originally from Curacao, and interestingly enough, we are not alone.
My great grandfather migrated from India to Curacao in 1929, and my grandfather followed in 1951. As merchants they set up shop on the island, as it was an ideal location for trade, with natural harbors, and only a short distance away from the South American mainland. Curacao had always been a trading city, and in fact was home to one of the largest slave markets during the Triangle Trade. While my great grandfather moved to the island alone, when my grandfather moved to Curacao, he brought his wife along, and instead of sending remittances back to India, made Curacao a home. I am a second generation Indian born on the island, and I am definitely not alone.
In this day and age, defining our identity is increasingly important, as it allows us to identify where and whom we "fit in with" best, and it is becoming an intrinsic part of social interaction, especially with a population that is no longer completely sedentary. Originally, East Indians were brought to the Caribbean as indentured workers for seasonal harvesting. However, by the 1870s, colonial governments began offering East Indian migrants the opportunity to simply settle in the Caribbean, granting them land rather than a trip back to India. When the indentured labor system crumbled during World War I, there were approximately 500,000 East Indians living in the Caribbean, 1/3 of which decided to remain there. It was here that we see the first "merging of cultures" between the East Indians and the Caribbean's. Eventually, western work routines, education, Christianity, and population size caused the Caste system to essentially cease to exist in the Caribbean, as Indo-Caribbeans took on a more western form of social class, based on education, profession, and economic power.
By 1930, migration flows from India had started as stories traveled back to India about the living conditions on the islands and the potential for trade. The merchant class in India took advantage of this development. Displaced groups in India decided that the time had come to emigrate and look for new ways to maintain livelihood. While some Indians remained in neighboring parts of South East Asia, like my father's father who moved to Saigon, others ventured to the Caribbean, to manage importing goods from the Far East to export them to Central and South America, making a significant profit.
During the mid-1900s, many Indian merchants moved to islands like Jamaica, Trinidad, Grenada, St. Thomas, and the Dutch Antilles, maintaining connections with family businesses in the Far East. The most interesting thing about these migrants was not that they moved there and sent remissions home like those at the beginning of the 1900s, but rather that merchants moved to the islands, bringing their wives and families along, and eventually also starting families on the islands. While the Indian population remains a minority on most of these islands, they basically fall into the middle and upper classes of society, and as merchants have day-to-day contact with locals and tourists alike, thus becoming a "face" for these islands.
Their families have remained on these islands for generations, to the point where I, and several like me, find it difficult to place ourselves when people ask us the simple question: where are you from? There are definitely remnants of my grandparents and father's pasts in India: we often cook Indian food, watch Bollywood movies, and celebrate Indian holidays. Nevertheless, there are certain parts of our culture, for example our ethnic language, Sindhi, which somehow was never transferred to the future generations, thus putting the language at risk.
Nevertheless, I am Curacaoan, and I take full pride in my little island. I speak the language, and have, more than my parents before me, assimilated to the culture, celebrating Karnaval, Flag Day, and other such holidays, lighting "Pagara" (a bright red firework that's distinct to the Dutch Caribbean) every New Year, and especially enjoying the "ambiente" (atmosphere) on the island, from beaches, to the colorful city center, to all the little secret places that only a local would know. In this day and age, we are all "hybrids," and we are so lucky to be. I couldn't imagine being able to pinpoint my culture, as it is not stagnant. I couldn't imagine being only from one place. While I am proud of my Indian roots, I am equally as proud of my little island in the Caribbean, and everything that it stands for. So when people ask me where I am from, they'd better brace themselves for a lengthy answer!
Tags: cultural dimension of globalization, cultural mix, Curacao, identity, india, international migration, migration