The Mobile Revolution in South Africa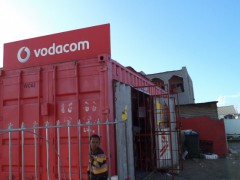 Numerous rapid online developments since the birth of Web 2.0 have undeniably played a major role in the increasing interconnectedness and transnational nature of the modern global economy. The communication, transmission and distribution of information and capital (whether tangible or intangible) are no longer limited by space or time. Markets have expanded, and both established businesses and burgeoning entrepreneurs have been gifted with new and cheaper ways of connecting to both clients and funding options.
While it is difficult to argue with such well-aired assertions, we should remember that they are gross generalizations. Often based on western ethnocentrism, they fail to take into account those who might still be excluded from the new global economic order. In countries like South Africa, a large percentage of the population still falls somewhere on the wrong side of what is known as the "digital divide", lacking substantial technological literacy and often without access to PCs and internet.
On top of this, though academic research papers have shown that South Africa is generally "mobile centric" rather than "computer centric" with regard to those who do access the internet, many South Africans still cannot afford their own phone with internet capabilities. Even those that can often find their internet usage heavily restricted by the exorbitant fees charged by telecoms. Though the fees are said to be coming down, data costs in South Africa remain amongst the highest in the world in a country where the average citizen earns around $400 a month.
But this only tells half the story. Mobile phone penetration in South Africa is in fact close to 100%, which is the highest in Africa. Even while the majority of people have feature phones rather than smart phones, highly successful  innovative services like M-Pesa still allow money to be sent and received by mobile all over Africa, while Africa's biggest social network Mxit (run out of Stellenbosch in South Africa's Western Cape) is considerably more feature phone friendly than any other social network,  facilitating everything from socializing and job seeking to direct communication between the public and politicians.
Numerous NGOs and other social entrepreneurs have also been quick to notice the potential that mobile phones and the internet have to improve the economic lives of millions not only in South Africa but across the continent at large. Even large corporations such as Microsoft have joined the party: Microsoft launched YouthSpark in February with the aim of bringing one million small and medium-size African enterprises online by absorbing the existing young workforce.
In South Africa, mobile phones are helping to remove not only socioeconomic obstructions but also geographical ones. Mobile phones facilitate business-related networking and trade between the country's often removed and underprivileged rural areas and urban business hubs that are also connected to larger international markets.
Furthermore, smart phones are gradually becoming more affordable and accessible. J. M. Ledgard of Intelligent Life magazine has predicted that by the end of 2014, 69% of mobiles in all of Africa will have internet access. Again then, in response to the burgeoning demand, markets are transitioning slowly from feature phones with limited data access to low-cost smartphones with access to the Internet.
However, for all the positives there remain significant challenges in the quest to completely erase the "digital divide" in South Africa and ensure that no South Africans are excluded from an increasingly online global economy.
University of Cape Town researcher Marion Walton's extensive work on low-income mobile phone users in Cape Town's townships suggests that mobile phone companies still gear their product designs, features, handsets, interfaces and so on to the needs of the more affluent Western user. Walton argues that these companies do not pay enough attention to the specific approximations, singularizations and innovations of poorer and culturally different black South African users.
To give one example, Walton shows that the participants in her study are often culturally encouraged as well as financially obliged to share a single mobile phone handset between multiple users. She suggests that new handsets should support easier access and more robust forms of SIM-swapping for multiple users, or that a single handset should be able to support multiple user profiles.
Another obstacle to the potential of mobile phones in South Africa is that of language. The language of technology, of the online domain and of economic globalization in general tends to be English. In South Africa, lack of computer literacy and lack of internet access are still in some instances coupled with lack of English language literacy, alienating some South African citizens and cell phone users from their piece of the online global economy pie two or even three times over.
While these challenges should not be ignored, it is encouraging to see the industriousness with which so many disadvantaged South Africans have looked to circumnavigate the constraints and empower themselves through the way they use, innovate and appropriate mobile phone technology according to their own individual needs.
As the world becomes ever more globalized, there is no doubt that mobile phones will remain central artifacts for those determined not to be left behind. But some South Africans will certainly need a helping hand. With better technological education and more context specific mobile device development, mobile phones can continue to make a substantial positive impact on lives all over Africa while simultaneously creating more consumers for the mobile phone market itself. This will only be to the benefit of each one of the constituent parts of the global economy.
Tags: Africa, developing countries, Development, globalization, Technology