The OG provide a Welcome Break from Political Infighting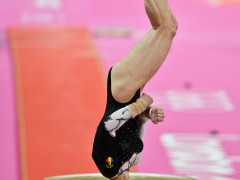 On August 5th, the Romanian gymnast Sandra Izbaşa won the Women's Vault Final at the London Olympics 2012 (Bogdan Maran/BPA Images )
Year in, year out, they train up for to 12 hours a day, they run, they jump, they backflip. And the better they do it, the closer they are to becoming part of their national team in the Olympic Games. But when they get there, the athletes' victories aren't only theirs alone. They belong to an entire nation.
It hasn't been an easy summer here in Romania. Not only has the heat given us a hard time, but the political environment too. A government has been replaced, the president suspended, and we've had a referendum that is now being contested by the same party that organized it. Neither of the parties is willing to come to its senses and understand that in THEIR battle for power it is us, the people, who are being deprived of thoughtful leadership and all the upsides that come with it. But there is something that eases all this torment and anxiety – at least for the moment: the London 2012 Olympics.
*
Romania isn't the most powerful or the most resourceful country in the world of sports. As in so many other fields, we lack the money to provide good gym halls with all the necessary equipment. The best known of such places is the Olympic Center called "Sydney 2000". Situated 33 kilometers from Bucharest, this establishment provides most of the conditions needed to become the best and is continuously developing its equipment. Even so, a survey by The Economist showed that Romania is still among the top 10 leading countries in the history of the Summer Olympics with a medal won by every seventh athlete sent there. Thus, Romania manages to overtake countries that, economically, are far above us – such as France, Australia, Italy and this year's host, Great Britain, to name but a few.
Resources might be a must for top results, but when it comes to Romania we can do a lot with a little as the Romanian women gymnastics team has proven many times. Trained by coaches Mariana Bitang and Octavian Belu, it managed to win the bronze medal at the London 2012 Olympics. The gymnasts also took the podium individually with the most remarkable performance coming from Sandra Izbaşa who aged only 22 won gold in the Artistic Gymnastics Women's Vault final. It was the 300th medal won by Romanian gymnasts at the Olympic Games.
We may feel dissatisfaction with many of the aspects of our daily lives here in Romania. But during the London 2012 Olympics, we come together as one. Every time athletes win or loose, we feel for them. They might be alone in their hard years of training, pain, and sweat. But when the competition is on, their results belong to us all. When most things nowadays divide us, sports still unite us!
Tags: Central and Eastern Europe, globalization, national pride, Olympics, political crisis, romania, sports