The Resourceful Entrepreneur: How a Domestic Worker Started Bhutan's First Mexican Restaurant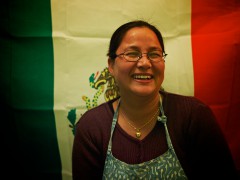 In a region marred by stories of rape, female infanticide, and organized trafficking, Bhutan stands alone as a beacon of gender equality. In Bhutan all women have equal and legally protected opportunities for education and employment; more women than men own land and property, including retail businesses; and 2 out of 5 of the leaders of political parties are women!
Even so, gaps still persist in the labor force where women, though 'economically active', participate in fewer decision-making and leadership roles. One of the reasons for this is that there are few women role models to look up to and follow.
But role models do exist: women like Simran Chhetri, a mother and entrepreneur, are giving hope to young girls that it is possible to become independently successful – with or without your husband.
Today, she is the proprietor and head chef at "Salsa Fiesta", the only Mexican restaurant in Bhutan. It's not exactly what she dreamed of – about 26 years ago, she wanted to be a doctor.
"My mother died of high-blood pressure when I was just 6. Ever since then, I wanted to help people who also had that condition."
Simran excelled at her studies, qualifying for free education up until class 10. Though she qualified for further studies, because her parents were Indian nationals she could not seek free higher education in Bhutan. The only option was to pay for private schooling, and her parents simply could not afford it.
A year later, she took a job as a domestic worker in the Rabten apartment complex. There, she learned how to cook – a skill she was slow to pick up.
"One night, my boss asked me to make a meal with curry. But I couldn't even cook rice! So I chopped up some vegetables and just boiled them. When she came back, she just looked at it, and said 'No, no, Simran – this is soup.' Then she showed me what she meant. I was so embarrassed!"
At the same time, she took satisfaction in knowing she could create something. She continued to learn – and make mistakes – trying out new recipes with curries, cakes, and anything her boss asked for.
Within a year, she left her job to marry Dewakumar, an accountant. Shortly after their marriage, he lost his job and went to Phuntsholing to take a computer course to better equip him for the job market. Simran, now pregnant, had to search for a source of income.
Again, she found more domestic work – this time with expatriate workers. The expats, a Danish couple, provided her with housing and a steady source of income, but the workload was intense. "Our working day was around the clock. We had to make all the meals and clean up, from breakfast in the early morning to dinner late in the evening."
The stress got worse after she had Chiakshu, her first daughter. Her husband was still based in Phuntsholing, so there was no one who could look after the child while she worked.
"It's not possible to bring your child and do the work I was doing. I used to carry her on my back, but she would cry, and I couldn't focus. I would leave her at the house sometimes, which was very difficult. Because you can't be there when your baby needs you."
But there were no other options. The Danish couple left after 3 years, bringing an American couple in their stead. The new couple enjoyed Mexican food, and asked if she could make Chimichangas. She couldn't, but with a little online research, she learned quickly.
With her husband back, life became easier. He would drop off their daughter and look for a job while she worked. Now they wanted another child. That dream looked increasingly unlikely after three consecutive miscarriages. The miscarriages took their toll on Simran's psyche, and after an abortion, she wanted to quit.
"Emotionally, it felt like killing your own child. After everything, I did not want to work."
She left the job. Depression settled in, preventing her from doing anything. Eventually, she had her second daughter, Bika. But things only got worse after her husband was hospitalized in a battle with addiction. Somehow, she mustered the strength to start working again.
"I just felt like I needed to do this. It was my husband who was sick. And I had two children now. So if I didn't work, who was going to bring in the money? I have this house that needs to keep going. Whether it's the husband or the wife, whoever is able has to take responsibility."
Part-time housekeeping and catering jobs kept her going until 2011 when, with the support of some of her expat friends, she came up with the idea of starting something new in Bhutan – a Mexican restaurant. She found a small space, and opened the restaurant within four months. Dewakumar, her husband who now runs a medium-sized tour company, has from the very beginning been supportive of his wife's efforts.
The restaurant has been running a year now and has helped employ young unemployed Bhutanese as well as broaden the culinary horizons of the Bhutanese who are generally reluctant to try new things. Though she does not consider herself to be a total success, she takes great pride in what she does.
"My situation has made me what I am. But it has also shown me my potential. Now I do what I can do. I can work and earn, I can be equal to a man. I can be independent. I can look after my children myself. I don't have to be dependent on anything."
Tags: BHUTAN, gender equality, mexican restaurant, women entrepreneurs