What colors work well with gray? Chişinău breaks out of the Soviet Mould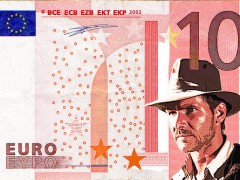 What lays further East, beyond the borders of the European Union, is often a black hole for the Western World.
The Republic of Moldova is a prime example of a state that doesn't say a great deal to many of us. The area was consistently under the rule of various regional  empires  and more recently formed part of Romania and the Soviet Union. Its history has given today's Moldova a sensitively mixed ethnic profile which has led, as in other former Soviet republics, to politically motivated armed conflicts and a high degree of instability.
Still, the country isn't frozen in time. Trapped between the politics of different governments, between Russia and the European Union, a slow transition towards democracy seems to be gettting things on the move, despite widespread corruption.
Chişinău , the capital city of Moldova and by far the largest city in the country, is the place where most things happen. The city's Romanian, Russian, Bulgarian, Ukrainian and Turkish (Gagauz) speaking populations give it an interesting multilingual flavour.
As a tourist in this city, buying a newspaper, asking for directions or simply dealing with people on the street without some basic bilingual skills in both Romanian and Russian can be quite confusing.  Not many locals speak English and for fear of siding with the wrong political /cultural side from the tourist's perspective, they are reserved about communicating in either language.
Multiculturalism, otherwise very charming, has been exploited by different influential political or social groups. Nationalists on all sides of the political spectrum, nostalgic communists and oligarchs have been using culture as a weapon to wage their political battles. A regular day  in Chişinău can mean a huge demonstration  like the Communist Victory March on the 9th of May or opposition parades organized by Romanian nationalists.
Pro-European liberals use the streets of Chişinău in a similar way. For instance, in an effort to boost his popularity, the liberal Prime-Minister Vlad Filat  turned to "politically driven romance" by inviting a popular Spanish singer to give a concert in  Chişinău, in an event held under ''his  patronage''. In many respects, Chisinau is unique in today´s Europe for the large number of grandiose events it hosts for manipulating the masses.
This tense political situation is aggravated by proximity to Transnistria, a breakaway territory and a cradle of frozen conflict, large arms and human trafficking, and organized crime. All of these extend their tentacles to mainland Moldova, making impoverished Moldovans even more liable to migrate. The capital city has thus become a gateway for migrants, leaving the rest of the country almost abandoned.
Many young people move to Chişinău in search of better opportunities. Sooner rather than later, they move to Italy, Spain or, more rarely, large Russian cities. This is having a huge impact on the social and economic situation of the country. Moldova remains Europe's poverty pocket.
Paradoxically, large street propaganda events peacefully coexist with clear signs of modernization.Western foundations have headquarters in the city and together with local state or non-government organizations , they are active in the  European Integration Process for Moldavia. As a heavy counterweight, the Russian Embassy in Chişinău is one of the largest in Europe.
"Big" is also the word for Chişinău´s communist legacy. A short walk around the city quickly brings you to giant factories, wide streets,  huge apartment  buildings and for relaxation,  even big parks. "Fast" is another of the city's traits: everyone seems to be in a hurry and the city can get so crowded with people on the move, that most of the time the buses, streets and zebra crossings are just not enough to contain the bustling flow.
Despite traces of democratization, traditionalism still feels at home in Moldova. In Chişinău, the statue of the Victorious Soviet Union meets the glass and steel office building (Sky Tower in Chişinău) and there are also huge peasant markets offering home grown produce.
The search for cultural identity through politics seems to be the everyday business of people living in Chişinău. It's not only the most common topic you can hear discussed on the streets, it's also alive in graffiti, clothing accesories and car stickers. Even supermarkets sell themed ribbons.
This lack of identity and belonging is also most probably the deep root of the instability the country is facing.
A New City? It's hard to tell if Chişinău will ever become one. For the time being, it continues to live and breath in its own eclectic fashion – a palette of many colors on a background still veiled in grey.
A local rap band hasl caught today's mood in the city well in a song with more than a nod to New York.
Swoad ft Vigi – Chişinăul nu doarme (Chişinău is not sleeping)
Tags: Chișinău, colours, communism, Development, frozen conflict, migration, Moldova, national identity, nationalism, poverty, rap music, Soviet Union, the new city, Transnistria, urbanization