What's happening in Southern Mongolia?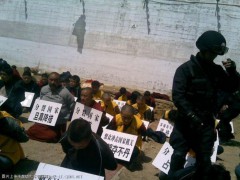 People across the world now have the opportunity to see direct media coverage of events as they unfold. It made Mongolians shudder when they watched the self  immolation video of  the Tibetan monk  and  moved them immensely when they saw the Dalai Lama – the Tibetan leader cry for his people.
There were strong reactions from people all over to these videos –  making  them detest Chinese Communist repression even more. Similarly in Mongolia a spate of human right violations has provoked strong reactions from human rights activists/organizations, ordinary people and the media.
Violation of human rights in Southern Mongolia
Southern Mongolia is an autonomous  region  of  northern  China and inner  Mongolia, a separate, independent country to the north of China. Ethnic Mongolians – who make up nearly one-fifth of Inner Mongolia's twenty four million people – claim that their grazing lands have been ruined by  mining and desertification. According to SMHRIC, many complain that the Chinese authorities promise to respect herders'  rights  but invariably fail to keep what they promise.
Mongolian people  have also learned about the deaths of native-born  herders, crushed and killed under  the  wheels of  a haulage truck . They were  only trying  to stop mining in their home land and fighting to save their nomadic way of life. Over the past five years, the herders of Southern Mongolia  have repeatedly asked the administration  to spare their  age-old nomadic lifestyle and pasture land. But the Chinese administration has turned a deaf ear to their requests. In the herders'  fight against mining operations, more than 20 of them were  arrested and beaten up last year for participating in the protest movement.
But all this does not stop heavy handed  Chinese political rulers  from repressing and crushing protest. As reported in Mongol News  "The situation of Southern Mongolia is getting worse although the Chinese communist rulers maintain a tight hold on all information. There have recently been reports that Chinese  officials have garrisoned some army units in the towns of  Huh Khot, Ulaankhad, Shilin Khot, Tongliao and Dongshen".
Raising awareness through social media
Fortunately, alongside traditional media the social media has also played a pivotal role in making the world aware of  human rights violation in Southern Mongolia.   Social media have made Southern Mongolians more aware too and encouraged them to feel that it is their right  to demand  freedom and transparency of information.
Social media like Facebook,Twitter, YouTube and blogs have helped people all over the world express their views about violence and repression, and protest the  great divide between rich and poor. Internet-driven connection and communication has  brought people onto the streets in Southern Mongolia – as people descended into the streets in the Arab Spring. Visit the Nomad Green support group for Southern Mongolia on  Facebook.
Radio Free Asia broadcasts an eyewitness account from Southern Mongolia.  " …It's difficult to walk in Huhhot. Everywhere you can see the military or policemen with guns checking everyone  passing through railway posts or the junctions of cross roads. It seems that war might start soon…"
Mongolian newspapers and magazines are restricted in what they can publish, and  internet access in Southern Mongolia was temporarily shut  down by the Chinese government. SMHRIC also revealed that blogs or chats in Chinese about the protest movements were also censured. Yet despite such restrictions  people from all corners of the world are expressing support through their blogs and internet activities.
Two weeks ago American Radio broadcast news about  the situation in Tibet and Southern Mongolia. In May 2011, Radio For Asia also  reported the death of a herder called Mergen who was run over after a standoff with mining company truck drivers in Shiliin Gol. This  sparked the biggest demonstrations in two decades in Inner Mongolia. In October last year another herdsman named Zorigt died while trying to protect his land and livestock from unregulated Chinese trucks transporting oil and gas that drive  roughshod over their grazing lands and kill livestock. As a result of the suppression  by  the Chinese Communist rulers in Southern Mongolia the situation hit a new 20 year low point that day.
According to a report by Mongol News the Committee of Communist Party of China  recently held  three  urgent meetings  to discuss  making Southern Mongolia  the number one priority development zone and promised to increase the  herder's income to US$ 850. However, this failed to put a stop to the protests .
The protesters, including some thousands of university students, called for protection of  herders' rights and condemned the exploitation of grasslands. As momentum gathered, more and more  people became involved and protests spread to  Japan, America, Sweden and independent Mongolia.
Last year a large-scale demonstration was organized at the Chinese Embassy in Japan, which demanded the release of Hadaa, the head of Inner Mongolian Democratic Association and  a prominent human rights activist.  Accused of slander and imprisoned for 15 years in China, his prison term ended on 10th of December 2010, but he still wasn't released by the  Chinese authorities. People  in Japan  and Amnesty International called for his release with a spate of official letters to the Chinese authorities. Hadaa was finally released but disappeared on his way home and has been missing ever since. He might even now be dead!
Another writer, Huuchinhuu who headed the movement for Hadaa's release, was also arrested and beaten up. Her blog shows how she  survived it all. She also disappeared on 27th January 2011 and to date there is no news of her.
Let's think about it.
With the uncooperative  Mongolian government  showing no reaction and its officials even  refusing to give permission for support demonstrations in Southern Mongolia, the situation just might  reach the tipping point where there is no turning back. Will  the protests result in the creation of a state like Outer Mongolia – a sovereign parliamentary democracy? Can we really see it as a sign of democracy when only its people are concerned but not the actual government. Although politicians in Taiwan have said,  "Mongolia is the benchmark country of Asian Democracy", it seems so unreal!
Tags: chinese government, human rights violations, inner mongolia, mainstream media, Mongolia, social media, violence