When will Batticaloa get Sustainable Development?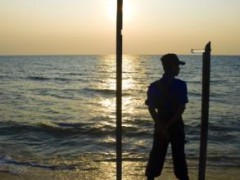 Being woken by the sound of thunderous multi-barrel guns is a novel experience. For someone who grew up in urban India, war and conflict zones are something reserved for the late night TV news.  The first rays of the morning sun were barely streaming through the curtains of my room, when I was woken from my half-dream state. I rushed out to check on my parents whom I found casually sipping their morning tea. "This is routine," said my father. He'd been working with an aid agency in the area for a while and I took his word for it. This was May 2006; after the tsunami which had washed away the shores of the coastal town of Batticaloa, leaving thousands homeless.
Recent reports of vandalism to a Mahatma Gandhi statue in Batticaloa in east Sri Lanka brought back memories of my stay in this sleepy coastal town. My first visit to this fishing town was just after the devastating tsunami and  the town reflected a sense of survival.  The situation has improved since the downfall of the separatist group, the Liberation Tigers of Tamil Eelam (LTTE) in 2009.  However, the people of Batticaloa are still struggling to feel normalcy it appears. As a local resident tells me, "Unrest has become a part of daily life, curfews, security checks are all second nature to us now."
The ethnic conflict coupled with natural disasters like the tsunami and floods has adversely affected the socio-economic situation in the country.  Eastern districts like Batticaloa, Ampara and Trincomalee need immediate attention. The government of Sri Lanka envisions attaining sustainable development by "achieving sustained economic growth that is socially equitable and ecologically sound, with peace and stability".The Sri Lanka Strategy for Sustainable Development (SLSSD) seeks to achieve this vision through eradication of poverty, ensuring the competitiveness of the economy, improving social development, ensuring good governance, and a clean and healthy environment.
A boost in tourism
From recent conversations with colleagues in the media, I gather that the Government of Sri Lanka is pushing a tourism agenda in Batticaloa. "During the last year most of the roads leading to Batticaloa from other parts of the country were repaired and replaced with carpet roads by the State thereby reducing the traveling time between the capital city of Colombo and Batticaloa and also between other important towns. This programme was carried out by the State under its road reconstruction programme with foreign aid," says Manoharan, an NGO worker in Batticaloa.
To boost the local economy of the Eastern Province, the tourism department is forging ties with hoteliers to develop projects in the area. The shoreline of Pasikuda in Batticaloa was destroyed by the tsunami and what was once the site of debris and death is now home to plush beach-front hotels and resorts. According to a report in The Hindu, 14 new hotel projects are on the horizon, the first to take off is called  'Maalu Maalu'. What's more, the Ministry of Cultural Affairs and National Heritage in Sri Lanka in collaboration with the Sri Lanka – Netherlands Cultural Cooperation Programme, has introduced a project for the conservation and preservation of heritage sites with a special emphasis on the Eastern and Northern Provinces. The Dutch Fort at Batticaloa has been identified as a site for the promotion of cultural tourism.
"Tourism is a tried and tested tool for social, financial and environmental sustainability. When managed properly, it has effectively changed the socio-economic scenario in places and countries across the globe. There are many examples of flourishing tourism based economies in South Asia alone. However, the picture is not always rosy because of improper management of tourism activities, lack of pro-active policies and goodwill at government level and lack of awareness," says Pranab J Patar, research manager at the Earthwatch Institute, India.
"Given the post-tsunami and post-conflict situation in the region, it will be highly appropriate to promote tourism in the best possible way to help rebuild this area and boost its economy. As we all know, it is important to have peace and political stability in any area for growth. Social parity could actually be achieved through economic empowerment – which could come from tourism, fisheries and agriculture. And social cooperation is integral to any peace process which can then contribute to overall socio-economic growth," added Pranab.
How much this focus on tourism is really going to help the locals of Batticaloa is yet to be seen. "I see a new hotel springing up every month, but what's that got to do with us? They say it's for the people of Batti, but apart from forcing me to relocate I haven't experienced any benefits," says a store owner in Batticaloa.
From curfews and security-checks to being thrust into the middle of a tourism circus, the people of Batticaloa take whatever comes their way.
Source of photos: http://sxc.hu/
Tags: disaster management, natural disasters, post-conflict development, sustainable development, sustainable tourism