Who says what on whose land?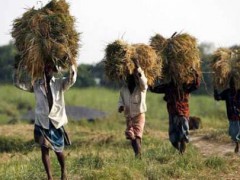 At a time when much attention is being paid to the growing tensions in Pakistan fuelled by the country's unstable political situation, it's only fair to notice other important issues in the country. One such issue is the agriculture sector. Of course, issues such as land ownership, farming conditions and forestry don't have the same headline-grabbing appeal that suicide bombs and nuclear weapons have, but they're essential subjects nonetheless. Pakistan's principal natural resources are arable land and water. Pakistan's total arable land covers about 22 million hectares (1 hectare=2.47 acres), making it the 15th largest in the world and about 25% of Pakistan's total land area is under cultivation.
How many times have you heard phrases such as "Resentment of poor farmers against elite land owners' or 'The poor are exploited'. Clichés – I suppose that's the word. You don't have to be a Pakistani to have heard such lines but any person with some knowledge of history will know that many of the revolutions in the last hundred or more years have been primarily  spured by the resentment of the rural poor against concentration of agricultural wealth in the hands of the rich. The situation we're facing today in Pakistan is not wholly similar but it is to some extent: one third of Pakistan's farmers are tenant farmers, including almost one half of the farmers in Sindh. Almost 50 percent of what is produced by tenant farmers is given to the landlords who have legally or illegally taken charge of large parts of the Pakistan's rural cultivated land.
However, one has to hand it to Z.A Bhutto'a government back in the 1970s for bringing in the most efficient of land reforms. During his tenure as prime minister of Pakistan, Bhutto officially lowered the land ownership ceiling to about five hectares of irrigated land and about twelve hectares of non-irrigated land. The 1973 measure made it mandatory for landlords to pay all taxes, water charges, seed costs, and one-half of the cost of fertilizer and other inputs. It prohibited eviction of tenants as long as they cultivated the land, and also gave tenants the first right of purchase. These measures were clearly designed to increase tenants' security. No other government has treated serious agricultural matters with greater realism than Zulfiqars's. And then the military dictator Zia-ul-Haq overthrew Bhutto. There isn't much to say about that because the reforms were not implemented even half as effectively as they were during Bhutto's regime.  Agriculture became a sorry picture of neglect.
In 2009 then Pakistan decided to sell farmland to Gulf investors. The Federal Minister of Investment Waqar Ahmed Khan, said that Pakistan was offering one million acres of farmland for lease or sale to countries seeking to develop their food supplies, and was negotiating with the UAE and other Arab states and South Korea. In 2011, again, the government contemplated selling six million huge tracts of land to Arab states hoping it would attract foreign investment as more and more countries try to stablize their domestic food prices by investing in arable land internationally. Local farmers were not happy with this as they believed that steps should be taken to give power to the rural poor already in a dire enough situation given policy-makers' lack of forethought for their concerns. Selling land to foreign companies and investors would spoil their future  and their right to income, and given the high demand for water supplies, the poor farmers would be the first to suffer. However, foreign investment is not always harmful –  it can be beneficial if modernization is brought to local farms and helps local and small farmers to produce better yields more quickly and more economically. It is vital that the leases be written up to ensure higher farm productivity and investment in water management techniques. However, unfortunately, no such deal was concluded.
The government of Pakistan has not only neglected small scale farmers, it has also worked for their benefit too. In a scenario the government distributed land among 5,729 tenants helping them become proud landowners and  helping them sustain their households by selling their produce.  Even so, I would still say that not much thought is put into making cogent policies because policy-making is coloured by the money and support provided by rich landowners and their legal claims to land they might or might not own.
During the course of Pakistan's history,  here and there we have seen glimpses of land reforms, land ownership reforms, and improvements in agricultural conditions. But much still remains to be done. With more and more NGOs working to promote small scale agriculture and given the high prices of comodities, the government is trying to make small scale farming a much more feasible venture.