Will Iceland soon be without any doctors?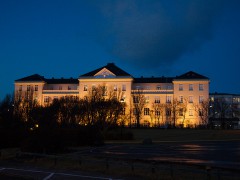 There is one remarkable thing about Icelandic doctors: they actually work in Iceland. Despite lower salaries and longer hours that they could expect in many other countries, they usually return home after specialising abroad. However, this may not hold true for much longer.
Many doctors have resigned over the past few weeks due to worsening working conditions at the national hospital, Landspítali. Young doctors are also not tempted to return to Iceland to work in an understaffed hospital. Future Challenges interviewed two young doctors who feel that current working conditions are unacceptable.
"I didn't feel comfortable working in Iceland. There's so much to do, you just try to go with the flow and keep your patients alive from day to day," Inga Rós (28), a doctor currently working in Sweden told Future Challenges. "I felt like I was betraying myself and my patients, that I wasn't learning enough there [in Iceland] because of the lack of time. The patients keep on coming but you don't have enough personnel and you don't feel like you can take care of your patients as well as you want to." She was thrown in at the deep end, left alone when working as an intern, taking care of patients without a supervisor present. In her first month after graduating she was left completely to her own devices and had to do her rounds alone.
After the financial meltdown of the Icelandic economy in 2008, Icelandic doctors are now facing longer hours, more work pressure and lower wages than they would get in other Scandinavian countries.
"I really like Iceland but what with the economy and the work environment there, coming back to Iceland is not a very feasible proposition. It's no good choice right now. The wages are much lower than in neigboring countries. As a junior doctor abroad I can have two to three times the salary I would get in Iceland for doing pretty much the same job," Ómar Sigurvin (29), resident at Landspítali and chairman of the Icelandic Association of Junior Doctors told Future Challenges.
This lack of incentives poses a threat to the tradition whereby 80% of Icelandic doctors return home and settle down.
Working conditions at the country's main hospital certainly don't sound appealing:"They barely get by, and everyone is frustrated all the time. Everyone is basically just dog tired," is how Inga Rós described the situation. Ómar Sigurvin said"It´s a bit tense but we try not to let it affect our daily job, but it still is tense." He also pointed out that equipment and housing were not as good as in neighboring countries, and that 89% of junior doctors in Iceland show some physical or mental stress-related symptoms due to their working environment.
This month, twenty resident doctors have resigned, including all of those currently specialising in obstetrics & gynaecology. Doctors are usually only hired for a year at a time so their period for handing in notice is only one month. Many of them withdrew their resignations after the hospital promised them better working conditions although it is still unclear how the hospital plans to keep its promise.
In the past three months, all faculty physicians in the orthopedic department at Landspítali University Hospital have also resigned. Usually operating with a faculty of five to six doctors, the department has seen two doctors head abroad for further specialisation and another change departments. The hospital has no plans to replace these doctors in the short term, which left two doctors facing a workload usually dealt with by five doctors. They both decided to resign in protest.
Doctors aren't the only hospital workers facing worsening working conditions in post-crisis Iceland, 280 nurses have also resigned stating work strain and low salaries as their main reasons. Some feel that they are so understaffed they are afraid of making critical mistakes at work. The chairperson of the Icelandic Nurses' Society blames the government for failing to prioritize finances to allow for satisfactory medical care.
Ómar Sigurvin told us "I think there are too many patients per doctor here […], if it's forseeable that we have to continue to bear this strain for some time before we get more people in, we must raise our wages to make it more attractive for people to come and work here in the first place". He is planning to move abroad and is mainly looking forward to having more free time to spend with his family. The basic salary in Iceland is low and doctors work overtime and shifts in order to supplement it and make a living, while in Scandinavia the basic salary itself is enough to live off.
More doctors are now considering moving to other countries with better benefits, often returning to the country where they first specialised where they already speak the language and have connections. It is especially difficult to replace highly specialised doctors such as neurosurgeons in a country with a population of only 320,000, and there is no Plan B.
Patriotism alone is not a good enough reason for young doctors to return to Iceland. Or, as Inga Rós put it, "Right now, if the situation and work environment in Iceland doesn't change, there's nothing really there for us."
Tags: doctors, migration, wages, working environment