Women and the perils of homelessness in Brazil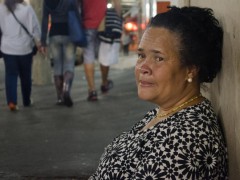 Homeless people are a reality worldwide; they are often driven to a life on the streets by unemployment, alcohol addiction and disputes with relatives. In Brazil, civil society and government initiatives are trying address the needs of those struggling to live on the streets. But as the blog of the Biscate Social Club argues [pt], "women in street situations are only equal to other women in relation to [the threat of] gender violence". Considering women's specific needs and vulnerabilities regarding hygiene, pregnancy and sexual assault, how do women in street situation cope with such issues?
During autumn and winter in the city of São Paulo, you may often find a blanket tucked in the higher branches of a tree or hidden in the bushes of a private bank's frontyard. Blankets, cardboards and shopping carts are common and useful artifacts for creating temporary shelters on the streets. Public shelters do aim to provide better conditions but their means are too limited to cope with the demand.
The city government of São Paulo has conducted two census surveys [pt], in 2009/2010 and 2011/2012, to serve as guidelines for public policies and interventions concerning "people in street situations", the term used by policymakers and NGOs in Brazil to cover those who sleep in public shelters and those who sleep on sidewalks and benches at night.
The 2011/2012 census counted 6,765 people sleeping on the streets (47%), and 7,713 people (53%) sleeping in shelters in São Paulo. The data shows that these people are predominantly adults of both genders, but the teenagers are mostly female. A similar census from the year 2000 shows that the ratio used to be the other way around: 54% slept in the streets; 46% in shelters. Construction of new public shelters has expanded outreach, yet not everyone is happy with these institutions.
Maria Medalha is a 44 year old woman who has been living on the streets for the past 10 years and she hates shelters. The photographer Toni Miotto created a short visual profile of her for the blog of the Biscate Social Club a few months ago. Maria says she usually sleeps on the streets of the Liberdade district or at the  Minha Rua Minha Casa [pt – My Street My House] civic association, where she goes to have meals and take care of her personal hygiene. Maria is also a volunteer at the association which was created in 1994 as an alternative to public shelters run by the government.
Minha Rua Minha Casa is built under an overpass in downtown São Paulo and now caters for 350 homeless people, offering space for hygiene and assistance in filling out forms as well as health treatment, meals, literacy programs, and training activities for income generation.
In May 2013, Instituto Bom Dia [pt – Institute Good Morning] was launched in São Paulo to offer support exclusively for women, as well as providing shelter for homeless women. It's the first such institute with a gender focus [pt]. Located in the Campo Limpo district, it's the initiative of a religious and civic association run by an Evangelical woman pastor.
Staffed by volunteers and professionals, it offers medical and psychological care, as well as religious support. It  welcomes women who fled their homes to escape from domestic violence, and women from shelters as well as those living on the streets. Opening with capacity for 15 women, it soon expects to be able to cater for 60.
Instituto Bom Dia has been set up in the midst of a growing concern in São Paulo about people in street situations. The rise of drug use, especially crack cocaine, over the past five years has brought about increased numbers of addicts, men and women of all ages who have lost their homes and moved in to occupy sidewalks, public squares and abandoned houses in the city center, in a zone which now known as 'crackland'. Eratic behavior by drug users has become a cause of widespread social anxiety. And the same phenomenon is repeating itself in Rio de Janeiro and other major Brazilian cities, with calls on the government and regional governments to take action.
Forced treatment for addiction and police clearance of the areas they occupy for gentrification purposes are among governments' controversial responses. In fact, the census surveys mentioned above were conducted as part of the government strategy to guide responses. One of their main findings referred to homeless women. During the 2009/2010 census field research, the gender of 758 people sleeping on the streets could not be identified, mainly because they were sleeping under blankets and did not wake up when the people taking the census approached them. A significant number of pregnant women were noted, however.
Concerned about the health of future moms and their babies in similar situations, researchers urged that questions on pregnancy be included in the 2011/2012 census which noted 278 women who said they were not pregnant, and 50 who said they were. Researchers were unable to get this information from the remaining women.
The risks of rape and sexual harassment, as well as of contracting diseases through inadequate hygiene, are always present. Use of crack cocaine merely exacerbates the vulnerability of impoverished homeless women, and especially so in the case of pregnant women and the risks to their growing fetuses. Current data fail to reflect the true extent of the booming "crack epidemic" in Brazil and appropriate methods are still needed for tackling this issue. The ongoing challenge is how to respond with a human rights-based approach that also balances broad concerns of public safety and health.
Tags: drug use, homeless, houseless, risks, Sao Paulo, shelter, women