Violence and Poverty, how Brisbane women survive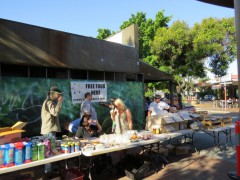 As a woman living in Australia, I am very much aware of how lucky I am in comparison to women in other countries. I have great access to education, I have freedom from war but I am still worried about a little known problem affecting women in my country: domestic violence is the primary cause for breakdowns in relationships in Australia and domestic violence occurs on a regular widespread basis. In big cities it's assumed there are many social services, especially services for those tackling disadvantage. But for women in the state capital Brisbane, the story isn't that simple. People who work with victims of domestic violence say that there are so few services to meet the pressing need that the women and children concerned risk facing homelessness.
In Australia, one woman a week dies from violence in their own home and a whopping 91% of women who report assaults say that the perpetrators are their current or ex-partners. These statistics are pretty frightening. Research by Relationships Australia also shows that women are more likely to experience financial hardship than men. The shocking reality is that one year after separation, the average woman's income will drop by $21,400 or 42%. This makes recovery harder for women who must leave a relationship with a man to protect themselves and/or their children.
Mark McDonnell is the founder of Community Friends, a registered charity that provides food, clothing and support to poor and disadvantaged people including those trying to escape from violent relationships. He reports that domestic violence is the main reason why women seek help from support groups.
The White Ribbon Organisation, an Australian charity campaigning for an end to violence against women, reports that up to 50% of women in Australia experience physical or sexual violence from a man at some point in their lives.
Sally** a facilitator for Community Friends agrees: "The breakdown of a relationship due to domestic violence can leave women in a very precarious position financially and emotionally." She tells me, "Two women in the women's group have told me they lost their homes as a result of a breakup and I have a number of friends who have also been left with nothing." The women they see at the charity have suffered traumatic events in childhood, which can also trigger drug use that leads to domestically volatile relationships.
Whilst it seems like a common problem in Australia, what it is like living with a violent partner can still be hard to comprehend. There are harrowing stories about domestic violence. Take the following tale told by Lila* which is disturbing enough.
Lila is a woman who found herself in an abusive relationship. It was not until seventeen years into her marriage that her husband became violent, "One night as I cowered in my locked bedroom, my husband threatened to kill the family dog if I didn't speak to him, I thought I was protecting my kids by opening the door". Lila's husband immediately grabbed her and dragged her across the floor by her hair. The beatings continued until a few weeks later when he held a gun to her youngest daughter's head and threatened to kill her. "After that I knew I had to get out no matter what" she explains. She made a plan and her sister paid for tickets to travel the 2071 km to Townsville, Lila and her children left with just the clothes on their backs.
Such a situation can take a financial toll on women leaving unstable environments for an uncertain future. Lila struggled terribly after leaving her husband: to feed her family she would steal food from the café where she worked at during the day.
In Brisbane, Community Friends do a great job of providing much needed services and support for people facing financial hardship. They give out 50,000 meals a year, and this amount has doubled in the past year to meet the increasing need. They have found that more single women with children access this service. "I think a lot of women miss out on food relief because a lot of the providers of this type of service give the food away at 7pm." Mark McDonnell says "I made a deliberate decision that our food would be given away during daylight hours so women would feel safe collecting the food." Sally and Mark McDonnell also offer proposals for the future.
Mark McDonnell believes that education and the job skills development will stem the rise in poverty and domestic violence. Sally believes, "We need to educate girls to care for themselves, trust themselves, be wary in any relationship and protect their legal rights." She also recommends that the government offer support as well. "There is obviously a huge shortage of emergency accommodation for homeless people and particularly for women and children suffering from domestic violence." Yet no matter what the situation is, protecting the independence and the community care of women will help to fix this devastating and rising problem in Queensland.
The state government of one of the most highly populated states in Australia, Victoria, has pledged AUD$1 million to fund an early intervention program aimed at "tackling family violence and homelessness." A partnership of not-for-profit agencies including the Department of Human Services has established a "one-stop 'hub' model operating out of Kildonan's Epping site and providing a range of co-ordinated services including drug and alcohol counselling, mental health support and legal services." Dedicated government support and dedicated services for reducing and tackling domestic violence will decrease the chances of women experiencing domestic violence in relationships with men.
Lila* not her real name
Sally ** not her real name
---
Tags: australia, Brisbane, domestic violence, GLOBALISATION, homelessness, poverty, social justice, women