Yes, it's a big fracking deal!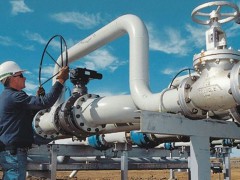 Image: www.abc.net.au
Australia has vast wealth in non-renewable resources. This has obvious potential for economic returns for the Australian people but it also poses some threats. Extractive industries are Australia's primary industry and appear to have a very bright future, but what are the social and environmental repercussions of resource extraction, especially controversial methods which apparently sidestep the precautionary principle? This appears to be the case for coal seam gas (CSG) exploration, which looks to be a part of Australia's 'resource curse'.
Coal seam gas is found in coal deposits and is released by a process known as hydraulic fracturing, or 'fracking'. Fracking is a process used by the CSG industry where water, sand and a cocktail of chemicals are injected into wells at high pressure in the process of fracturing coal fissures to release more gas. There is currently a pressurised debate regarding the safety of the chemicals used in the process, many of which are not approved for use in Australia. Chemicals such as benzene, toluene, ethylbenzene, and xylene (known collectively as BTEX) are amongst those which are under scrutiny, although the Queensland government announced that it would refuse any application that involves the use of these chemicals. Still, Origin Energy , Queensland Gas Company (QGC) and Cougar Energy have all been caught up in groundwater contamination claims. These incidents aren't isolated, and we are only aware of those that have been reported.
Australia is now a world leader in CSG technology and production, to the dismay of many local landholders who are finding their land under the threat of CSG exploration. Queensland's Surat and Bowen basins are world-class CSG provinces, with an estimated 40,000 wells proposed for construction in the coming two decades. Over 12.7 million hectares of land in New South Wales are already covered by petroleum exploration licenses, although a moratorium on fracking continues in this state. Although France, England and some parts of the US have already banned fracking, Queensland is 'moving forward' as the current PM Julia Gillard likes to frequently reiterate. In the quest for economic gain, can Australia afford to deny the social and environmental issues related to fracking?
This really begs the question, who is benefitting from all of this? Rather, how many are benefitting? How are extractive companies held accountable for mishaps which have the potential to impact thousands? What amount of this 'clean and green' investment that Gillard promotes is being re-invested for the Australian people, rather than going directly offshore to investors and corporations? These are serious questions that Australians need to be asking, and for which the government needs to be held accountable.
As with any controversial issue there are vocal contenders on each side. Director of the Australian Petroleum Production and Exploration Association Ross Dunn claims that hydraulic fracking has been occurring here for decades and is 'safe'. It would be interesting to see how he would react to drilling on his own property. Similarly, Paul Sheehan argues that opponents rely on dodgy 'facts' and are easily manipulated by films like Gasland, which he argues are founded upon false information and bias.
Pressure against the CSG industry is mounting. Southern Queensland farmer and Basin Sustainability Alliance chairman Ian Hayllor has raised questions about approval processes and the lack of understanding of long-term impacts, as have several other landholders and concerned citizens. Likewise, groups like Friends of the Earth and Six Degrees have gotten involved in the fight. However, dissident voices are drowned out by optimistic reports from gas companies. CSG exploration in Gladstone, for example, is said to generate around 18,000 jobs and up to $850 million a year in royalties. When the PM and the government are directed at economic growth by any means necessary, social and environmental considerations take a back seat. CSG is now said to contribute more than 90 per cent of Queensland's domestic gas supply. One might be accused of lacking both common sense and patriotism if they opposed this self-sufficiency!
Consider the possibility that fracking is aggressively promoted and developed throughout Australia. Economic prosperity will surely come with the development of thousands of drilling stations. Jobs will be created, money will roll in, and the short-term economics will appear to be worth it. But can a land with very limited freshwater resources afford to gamble with technology that may contaminate aquifers and threaten the well-being of the Australian people? Has the precautionary principle of sustainability been disregarded in the name of economics?
Information regarding the science of fracking:
Colorado Oil and Gas Conservation Commission
http://www.aboutgas.com.au/index.html
List of Chemicals used in the process
http://www.appea.com.au/images/stories/Policy_CSG/APPEA_Fraccing_chemicals_-_FINAL.pdf
Source: www.setexasrecord.com
Tags: australia, coal seam gas, Energy, fracking, hydraulic fracturing, renewable energy, resource