A glance at challenges in Uganda's health sector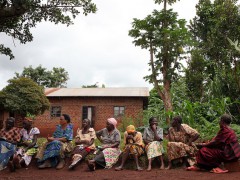 In 2012, Uganda suffered two major hemorrhagic fever outbreaks. First the dread Ebola hemorrhagic fever hit the remote district of Kibaale in the western part of the country. As the country was trying to recover from the Ebola outbreak, another deadly disease, Marburg fever broke out in Kabale in south western Uganda.
Kibaale district is 219 kilometres away from Uganda's capital city Kampala. Although the district has a main government hospital, it lacks the requisite medical expertise to handle such epidemics. Specialized doctors had to travel from Kampala and camp in Kibaale until the disease was fought to the end. Samples would be taken in Kibaale and driven to Kampala for tests. The same approach was applied to manage Marburg cases in Kabale. During the Marburg fever outbreak, Ebola hit another Ugandan district of Luweero which is 75 kilometres from Kampala.
Doctors say Ebola and Marburg are related viruses that cause hemorrhagic fevers, an illnesses marked by severe bleeding (hemorrhage), multiple organ failure and, in many cases, death. Both the Ebola and Marburg viruses are native to Africa, where sporadic outbreaks have occurred for decades.
When Uganda's first outbreak of Ebola occurred in 2000, the tests were done in the US's Centres for Disease Control in Atlanta. Again in 2007 when Ebola Bundibugyo hit the country samples were taken in the U.S for tests. For each test it would take at least two weeks to get the results. Samples of Ebola and Marbug suspects were being taken to the U.S because Uganda as a poor country does not have superior medical technology to detect such epidemic diseases.
But with time, Uganda has developed capacity to conduct tests from the  Uganda Virus Institute. The Virus Institute is heavily supported and funded by experts from the United States. Most of the recent hemorrhagic fever outbreak tests were done from this institute and local doctors who had treated previous outbreaks were on the front-line to curb these epidemics.
Uganda's healthcare system works on a referral basis; if a level II facility cannot handle a case, it refers it to a unit the next level up. Services in public facilities are supposed to be free, but in many cases health workers extort money from patients desperate for services. Often units don't have the essential drugs, meaning the patients have to buy them from pharmacies or other drug sellers.
It is widely accepted that health is wealth. This is because good health is a strong foundation on which success and prosperity can be built. Yet, inequalities in the access to health care are a major concern in Uganda and other sub-Saharan African countries. Rural areas in Uganda don't benefit from the best health care since hospitals there are grossly understaffed and not well equipped as compared to hospitals in urban centres in the country.
In Uganda's case, even in urban centres, the government-run hospitals are perceived as not offering better health services. Instead, the rich and those who can afford opt for privately run hospitals which are believed to provide better health services. The very rich seek treatment from outside Uganda.
Despite record investment over the past five years, Uganda's healthcare performance is still ranked as one of the worst in the world by the World Health Organisation. The country is ranked 186th out of 191 nations. Maternal and infant mortality in Uganda are still unacceptably high whereby every day 16 mothers die as they give birth and 131 per 1000 children die before the age of five.
Today a major public complaint about Uganda's health system is that there are always no medicines in government run hospitals. Uganda suffers a chronic shortage of trained health workers and the few trained doctors keep grumbling over their pay cheque. Brain drain is high in the health sector.
Only 38% of healthcare posts are filled in Uganda. Those health workers within the country, have little incentive to work in poor rural areas. Some 70% of Ugandan doctors and 40% of nurses and midwives are based in urban areas, serving only 12% of the Ugandan population.
This implies that access to health care between rural and urban areas is highly imbalanced. With most Ugandans living in rural areas it implies their ability to pay for better healthcare in urban centres is limited. These challenges need an urgent solution so that people can have a better health to create more wealth and get out of poverty.
Tags: Africa, brain drain, East Africa, Ebola, Ebola virus disease, Health, Healthcare, Infant Mortality, Kabale, Kampala, Kibaale, Marburg, Maternal Mortality, Uganda, world health organization