A New Development Paradigm Takes Shape in Bhutan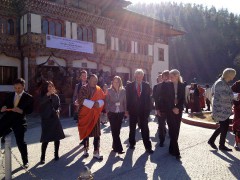 For people who want to change the world, the departure lounge of Bhutan's Paro international airport was the place to be on February 3rd this year. The simple confines of the terminal became an extension of the high level meetings that had taken place the week before, as members of an International Expert Working Group (IEWG) headed home on the one and only flight to Bangkok.
Francis Moore-Lappe, author of Diet for a Small Planet, handed out biscuits to the likes of Hunter Lovins, president of Natural Capitalism Solutions, and pioneer Chilean economist Manfred Max-Neef while pursuing discussions on subjects like evolving models of democracy, paradoxes of political change, and the role of environmentalism in the new paradigm. The group had been invited by H.E. Lyonchhen Jigmi Y. Thinley, prime minister of Bhutan and chairman of the steering committee for the New Development Paradigm, and included John DeGraaf, Johannes Hirata, Thaddeus Metz, Kristen Vala-Ragnarsottir, Anil Gupta, Jorgen Burke Mortenson, and many other intellectuals and activists from around the world.
Why Bhutan as its venue? Maybe because the country is one of the world's youngest democracies. Bhutan has been in the spotlight for its experiment in developing progressive policies for more sustainable and humane governance in line with the aspirations of Gross National Happiness (GNH). With a landmass the size of Pennsylvania and a population of about 700,000, it may not be the largest or most powerful of nations, but it is an agile country with a people who still trust in their leaders.
In April 2012, Ban Ki-moon, Secretary-General of the United Nations, urged the Royal Government of Bhutan to take GNH to a new level. He gave the government the task of creating a New Development Paradigm (NDP) that, whether adopted into policy or not, will mark for future generations a point in history when populations across the globe started rethinking the role of government.
Secretary Ban Ki-moon, said there is an urgent need for "a revolution in our thinking" to address the multiple economic, ecological and social crises facing our world. "The old model is broken. We need to create a new one… In this time of global challenge, even crisis, business as usual will not do…Clearly we must unite around a shared vision for the future ― a vision for equitable human development, a healthy planet, an enduring economic dynamism."
To that end  prime minister Lyonchchen and the Kingdom of Bhutan hosted this landmark IEWG gathering in the capital Thimphu from January 28 to February 2, 2013. The prime minister's steering committee assembled an impressive list of participants including scientists, economists, environmentalists, psychologists and other great minds from all continents to collaborate with a select group of their Bhutanese counterparts. Their job was to "articulate the principles, goals, structures and responsibilities of the new paradigm, so that this alternative perspective on development can contribute to the United Nations' post-2015 development agenda." The Secretariat stated that "The new development paradigm will focus on balancing thriving natural, human, social, cultural and built assets, and recognising ecological sustainability, fair distribution and the efficient use of resources as key conditions." The draft report will be presented to the UN in June, 2013, and a final document given by September 2014.
It was a truly new millennial meeting of minds with all the expected agreements and disagreements. How does one structure such a new paradigm? Based on the 9 domains of GNH? Or the UN's Millenium Development Goals?  Discussions were carried out under cloudless skies and in hallowed halls with handpainted walls. Stories of success and collapse  were articulated by this most articulate of groups. Hopes ran high and visionary statements flowed. "We need to remove the idea of private wealth from public decision-making," said one delegate. "The inseparability of all that space contains is the key to bringing about fundamental change," said geneticist David Suzuki. "Don't get too romantic or ideological about nature," countered Mark Mancall, "We are the custodians." Suzuki warned that progress doesn't always stick. "What we thought were great victories were just skirmishes," he said. "We didn't get to the root. We were too concerned with the symptoms and not with the underlying root causes."
The Secretariat group hopes to identify these root causes and provide the best solutions known to mankind today. One root cause or symptom repeatedly discussed was income distribution. It was agreed that for equality was more important for happiness than a country's GDP and relative wealth on the world platform. Studies have shown that inequality is divisive and socially corrosive, and ends up hurting the have's as well as the have not's. Francis Moore-Lappe suggested that people either "reclaim or come up with another word for democracy, another way to come together."
In a joint statement, the Secretariat wrote:
"Perhaps most encouraging in this moment of life-threatening planetary crisis and malaise is the powerful surge of activity from civil society movements around the world ― taking the lead where governments feared to tread, and giving courageous expression to humankind's basic goodness and inherent wisdom. This energy will and must create a global movement for adoption of the new development paradigm and generate the political will to act. But while we are witnessing a growing consensus that the present global system is bankrupt, as yet we still have no consensus on a clear, coherent and practical blueprint for the new approach that must take its place. Fortunately, elements of this consensus are rapidly emerging, including agreement that development must function within planetary boundaries and that it must enhance the well-being of all life forms."
This is definitely an initiative worth keeping an eye on.
Tags: BHUTAN, Development, development paradigm, GNH, IEWG, new development paradigm, Thimphu