A Step Ahead and Two Behind – The Story of Chilean Women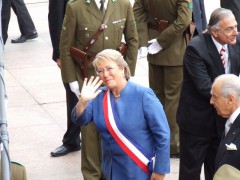 2013 is election year in Chile. This November we will elect our new president – a female president. Yes! the presidential election is going to be fought between two very prominent politicians and both of them are women – Evelyn Rose Matthei Fornet from the right wing alliance and Verónica Michelle Bachelet Jeria from the left. No matter what the outcome of the election is, Chilean women will win and the country will have yet another woman president.
Women have come a long way in the past hundred years, from winning the right to vote in 1931 to the all-women presidential elections of 2013. Chilean women are achieving new political heights in a country which has progressive laws and a relatively open society.
So have we achieved gender equality in Chile? Well, all that glitters is not gold, and sadly the reality is somewhat different.
The real political and economic standing of Chilean women is dubious. According to a study on the number of female representatives in the national parliament, as of July 01, 2013, Chile clocks in at 92nd place in a list of 189 countries. There are merely 14.2% women in the lower house and another 13.2% in the upper house.
In terms of opportunities and wages, the economic gender divide is also very significant. Women represent 48% of the Chilean workforce, but the odds are stacked against us. It is still hard to be a woman in Chile:
The current economic plight of women in the Chilean society may not be as bad as in many other countries in South America. However, some serious action needs to be taken to get rid of the existing financial-gender bias.
The Chilean government has indeed launched a few programs to narrow the income gap across genders. The Chilean Ministry of Labor and Social Welfare is going to give allowances to women from low income groups and their employers. Such programs will not only give a financial boost to these women, but also encourage employers to hire more women.
Another such laudable effort, SERCOTEC, was recently initiated in association with the Chilean Ministry of Finance. The Chilean government is making efforts to uplift and support entrepreneurship among women. Through this program, the government will provide seed capital and assist about 2,500 female entrepreneurs.
These all are great initiatives. Nevertheless, looking at the magnitude of the problem, they are like a drop in the ocean. Some large scale programs are needed for the overall economic development of women of Chile. Attitudes towards the development of women that say that merely having a job is enough for a woman also need to be changed.
Against this backdrop, the coming elections are critical. Since both candidates are women, it is expected that they will take the cause of women's welfare to the next level so that Chilean women can achieve real equality of opportunity. Considering that Michelle Bachelet was executive director of UN Women (United Nations Entity for Gender Equality and the Empowerment of Women), we are looking forward to her spearheading a wave of reforms for financial equality in society if she comes to power.
Because financially strong Chilean women will not only contribute to today's economy, but will also change the future of the country by providing better education and support for the coming generations.
Tags: Bachelet, Chile, Latin America, politics, women, working women