Brazil's government struggles to respond to popular demands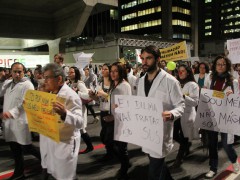 By Rasheed Abou-Alsamh
BRASILIA, Brazil – The massive street protests that rocked all of Brazil at the end of June for several weeks showed the high level of popular discontent with the poor state of transportation, education and healthcare in the country. This came as a surprise to many Brazilian politicians, who thought that with sky-high approval ratings, the federal government was doing all the right things to improve the well-being of its citizens.
Brazilian President Dilma Rousseff's approval rating plunged from 54.2% before the protests to 31.3% afterwards, showing that indeed not all was well in the republic. Some critics of the protests complained that the demands of the protesters were too vague and general to be adequately assessed, let alone responded to by the powers that be. But politicians heard the message loud and clear and reacted immediately to some of the concerns. Members of the National Congress met in special sessions, working through the weekend in order to vote down the spectacularly unpopular constitutional amendment PEC 37, which would have drastically reduced the investigative powers of the Ministério Publico (public prosecutors), by 430 votes to 9 on June 25. This was seen as a victory for those wanting cleaner politics, as it would allow the Ministério Publico to continue investigating cases of political corruption, instead of concentrating its powers in the hands of the Federal Police.
Another victory for the protesters was the withdrawal of a proposed law in Congress July 2,  that would have allowed Brazilian psychologists to label homosexuality as a mental disease curable by therapy. In 1999, the Brazilian Federal Council of Psychology had prohibited psychologists from advocating or participating in therapy that claimed to "cure" homosexuality. The proposal of this new law first appeared in the Human Rights Committee of the House of Representatives, headed by Congressman Marco Feliciano who is also an evangelical Christian pastor. He pushed the bill for the proposed law through his committee, much to the shock and dismay of mainstream politicians. He was able to do so after the ruling Partido dos Trabalhadores, or Workers Party, gave him the presidency of the committee in a political deal. Despite admitting defeat this time around, Feliciano crowed on his Twitter account that the evangelical front in Congress expected to lose this round, but would return in greater numbers and with fresh strength in 2015.
President Rousseff also reacted quickly to the protests, proposing in a nationwide TV address on June 21,  a national pact to improve public services such as education and transportation. She promised to improve public transportation; work to have 100% of the royalties from Brazil's offshore oil production funnelled into public education, and also to bring in thousands of foreign doctors to work in the under-served areas of Brazil. The problem with her proposal to use 100% of oil royalties on education is that the federal government has been engaged in a long-running battle with the oil producing states of Rio de Janeiro, São Paulo and Espírito Santo which balk at the idea of sharing their oil income with the rest of the country. Likewise, her plan to bring in thousands of doctors was immediately criticized by several Brazilian medical associations who threatened to take legal action if necessary to thwart it, and claimed that bringing in foreign doctors with dubious medical credentials would expose the poorest of Brazilians to bad medical care.
Only days later, at a meeting in Brasilia on June 24 of 27 state governors and 26 mayors of major cities, the president proposed the holding of a plebiscite to form a constituent assembly that would look into political reform. She also pledged that the federal government would continue to lift taxes on diesel fuel and electricity used by bus and metro systems which she claimed had already helped reduce bus fares by 7.23% and metro and train fares by 13.25%. Rousseff also announced that the federal government would make available an amazing R$50 billion (US$22.46 billion) to be spent on urban mobility projects!
Critics immediately attacked the plebiscite proposal, pointing out that it was unconstitutional. Justices of the Supreme Court chimed in, saying that only a constitutional amendment voted on by both houses of Congress could amend the constitution.  In the face of such criticism, Rousseff seems to have backed-off – for the moment at least – from any idea of a plebiscite.
In the face of so much opposition to the proposed influx of foreign doctors, on July 8 President Rousseff launched a new program called "More Doctors for Brazil" whereby, starting in 2015, medical students enrolled in both public and private universities would have to spend an extra two years working in the public health system before they were awarded licenses to work as doctors in the country. The president used a provisional measure to pass the new law, which does not need the approval of Congress.
Critics reacted quickly. Veja, a right-wing national newsweekly, and a fierce critic of the PT and Dilma Rousseff, this week has the president on its cover dressed as a doctor and holding the electric shock paddles used to resuscitate heart attack victims. The headline says: "Choque de Ilusão", or "The Shock of Illusion". The main thrust of the magazine's coverage is that the proposed national medical service is authoritarian and unconstitutional. Instead of forcing medical students to work in far-flung areas of the country, Veja says Brazil should emulate the example of Canada, where the federal government has created a structure for government doctors with good salaries, and opportunities for growth and promotion. Under this system, the magazine claims, Canadian doctors are willing to serve in remote areas, unlike their Brazilian counterparts with whom the Brazilian government has been having immense problems. Indeed, the federal government has complained that it has problems getting doctors to serve in the north and northeast of the country despite offering starting salaries of R$12,000 a month (around US$5.392). Most newly qualified Brazilian doctors want to work in bigger cities, mainly in the south and southeast, and set up their private clinics as soon as possible.
It is this inability to maintain doctors in the public health system that leads to the understaffing of public hospitals across the country, including in the capital Brasilia, resulting in extremely long waiting times for medical attention.
Health Minister Alexandre Padilha told Jornal Nacional on June 16 that he supported a professional career path for public sector doctors, but that they would have to dedicate themselves fully to their government jobs. "I support this for doctors, but they will have to be like judges, give up their dreams of having private practices, and dedicate themselves 100% to their public sector careers," he said.
On a parallel track in the More Doctors for Brazil scheme is a program to immediately start hiring doctors to work in needy areas across the country. Under the scheme, each doctor selected will be paid a monthly allowance of R$10,000 (US$4.493) and would have to work 40 hours a week for three years. Already 11,701 doctors have signed up, according to the Ministry of Health, but some doctors have complained that these jobs are not subject to normal labor laws, and that therefore they would be "robbed" of some of their entitlements such as an extra 13th month's salary at the end of the year, and contributions to their "Fundo de Garantia dos Trabalhadores", a pooled labor fund that is used to pay workers benefits when they are fired without cause or when they retire. A few days ago, President Rousseff reacted to some of these criticisms by noting that there are 700 municipalities in Brazil with no doctors, and that it is no use to build medical centers if there are no doctors to staff them.
Veja blames the sorry state of public healthcare on the government's poor planning and its clumsy spending of funds that are available. The magazine says that unlike European countries, Brazil spends more time implementing projects than on planning them, while in Europe the reverse happens.
Finally, part of the political reforms some have been pushing for are various proposals for cutting the number of federal ministries from the current number of 39 to a more manageable size. On July 17, the PMDB party, which is the biggest allied party of the PT, said they want Rousseff to cut the number of ministries down to 25.
From healthcare to transport, to cutting down on a bloated bureaucracy, Rousseff, her government and all government-allied politicians certainly have much work to do to begin addressing the demands of the people. It's not going to be easy or quick, but it will certainly be interesting to see if the politicians have the will and the stamina to see that all the needed reforms are in fact pushed through.
Tags: austerity, brazil, Latin America, protests