Commercial sex work in the guise of entertainment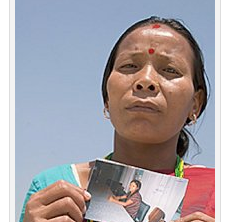 Signboards with  names like Jhakkas tequila with Dance or  Moonlight Cabin Restaurant or  Welcome Massage dot the crowded streets of  Thamel,  Purano Baneshwor, Gaushala and other localities in  Kathmandu. A little more than a decade ago commercial sex work and prostitution began to thrive behind the thin veil of cabin restaurants, dance bars and massage parlours in Kathmandu catering for the "entertainment" of middle class men.
Cabin style restaurants, with little partitions for the privacy of customers, have young female waitresses serving drunken men and dealing with their advances as part of their job which is to extract money for the restaurant owner. They have to put up with bad behavior like obscene jokes and gestures, and harrassment like being groped and pawed by customers all in the hopes of making some tips. The dance bars are places where young girls in skimpy clothes and too much makeup perform dance numbers to raunchy Bollywood songs to attract customers. Here they are made to strip or take part in commercial sex work by their employers. Similarly, most of the massage parlours are not there to provide actual health related services to customers. They function as havens of illicit commercial sex.
Economic and personal hardship are forcing increasing numbers of underprivileged poor women and girls to migrate from rural areas to the capital in search of a better life for themselves and their families. Often tricked into commercial sex, they actually only want to work as waitresses. Thoughts of the impoverished home life and drudgery from which they've escaped eventually make them resigned to this as part of their work while alcohol or drugs  or a combination of both aids them to make it through the day.
Such venues and platforms for commercial sex work are increasingly lucrative areas of easy money for restaurant owners. But the deal involves thousands of young Nepali girls and women succumbing to sexual and other forms of exploitation. As many as 50,000 girls are known to work in this entertainment business in a country whose capital alone hosts some 7000 dance bars and cabin restaurants. The women and girls' monthly income varies from approximately NPR 7000 ( $70) to NPR 10,000 ($100) and  more at times depending on tips or how they please the customers. Normally, they are only entitled to 25% of what they earn, the rest is pocketed by the restaurant owners. It's also common to find underage children as young as 12 working in massage parlours, dance bars and restaurants. Eventually most of these girls go into prostitution; with the little money they make they rarely have any other alternative.
Many of these places have licenses and are registered as ordinary restaurants at the Office of Cottage and Small Industries under the Industrial Business Act. Others are licensed under the Local Goverment Act while some have been registered as restaurants and resorts under the Tourism Act. Some are just illegal establishments where striptease, nudity and prostitution are illegally promoted despite owners' protestations to the contrary.
Commercial sex work and pornography is a public offence penalized in Nepal. Although  civil society – including human right activists and the UN – play an active role in the prevention of human trafficking, the numbers involved are still huge. UNICEF reports that as many as 7000 women, most of them girls under 18, are trafficked to India every year and that 200,000 Nepalese women are working in Indian brothels. This does not include the figures for internal sex trafficking.
Some small steps are being taken to protect the rights of these women. Since the right to work cannot be disputed, it is the duty of the government to regulate and manage such workplaces. In November, 2009 the Supreme Court  issued a directive that the rights of workers in dance bars, cabin restaurants and massage parlours must be respected. The  Court asked the government to introduce a separate act to regulate dance and cabin restaurants and has issued temporary guidelines to be followed until the law is drafted. These guidelines prohibit exploitation, particularly the sexual exploitation of employees.
Yet concerted efforts for regulation – whether in the form of directives or laws, or actions by human rights activists – are by no means easy. Restaurant owners simply turn a blind eye and exploitation of the girls continues. It's a vicious circle where owners bribe the police, arrested customers are released in a day or two after paying a fine, and  the arrested girls' photos are paraded in the local tabloids. At the end of the day, isn't  it the young girls and women themselves who bear the brunt of it all? Besides the physical and psychological abuse they suffer, isn't stigmatization, denial of access to mainstream culture and loss of identity a rather large price to pay?
Tags: cabin restaurants, commercial sex work, dance bars, massage parlours, minors, prostitution, young girls and women