Corruption holds Uganda's Economy Hostage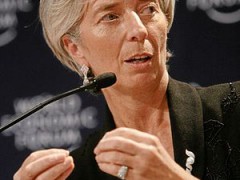 When Christine Lagarde, the head of the International Monetary Fund (IMF), recently told the World Economic Forum in Davos, Switzerland, that climate change not debt or austerity is "the greatest economic challenge of the 21st Century", I quickly thought of my country, Uganda.
I had a conversation about Uganda's economic woes with a seasoned journalist friend who said corruption in this country is threatening its development.
Much as climate change adversely affects all countries rich or poor, corruption is the most pressing economic challenge Uganda faces today. The country is ranked 130th most corrupt in the world by a recent Transparency International corruption index. Corruption denies people the benefit of good services like healthcare, infrastructure, better education, etc. It's common to find doctors and nurses in public hospitals stealing medicine and selling it to patients yet most of this medicine is supposed to be given to Ugandans freely.
But why should Ugandans treat corruption as a huge economic threat? First of all, corruption negatively affects our economy. At the end of last year Uganda faced foreign aid cuts over corruption. This is sending jittery signals to the investors. We even don't know how our budget for different key donor-funded sectors will look like come June this year given that donors haven't decided yet on giving back aid.
So, we might see key sectors like agriculture, health, infrastructure development and others that support this economy given little attention. This means fewer exports, more imports, no jobs, high cost of doing business and definitely slowed economic growth and development.
The suspension of foreign aid has been followed by a weakening of the Uganda's currency; the Shilling. This is not being helped by the country's growing current account deficit; implying that we are not earning a lot of foreign currency. This adds more pressure to the already weak shilling against major foreign currencies.
When Uganda experienced high inflationary pressures in 2011 mainly caused by a highly billed presidential election, the country's central bank increased the lending rates for commercial banks so as to control the inflation. In turn, commercial banks increased interest rates on loan seekers. Many businesspeople here borrow from commercial banks to run their businesses. Consequently, the cost of doing business raised.
For example, whoever was doing business in the real estate had to record higher costs on different inputs –some had to hike rental fees –but as we began this year several tenants have opted for cheaper office space. This has thrown property dealers, who were borrowing from commercial banks at higher interest rates, in a dilemma.
These challenges cannot be solved by the model of welfare state. I would suggest that the ideal modus operandi for government should be like a farmer who wants his plant to give him the best yields by supplying it with manure. In the same vein, government should provide better roads, healthcare, build good schools, so that Ugandans can pay taxes without grumbling.
The current government in Uganda is being criticized for collecting taxes and not giving back what is enough to Ugandans. The health, agriculture, transport and education sectors are in doldrums. School and hospital buildings are built today and collapse the next day due to shoddy workmanship.
At present, electric power outages is a huge challenge to business people and other entrepreneurs in Uganda. Uganda generates 812MW of electricity. Another power dam at the beautiful Karuma falls which is planned to produce 600MW is being delayed by allegations of corruption in the bidding process. Projects that would have helped lift the country's citizens out of poverty are being stifled because of this unpatriotic vice.
Just as an example in 2009, the World Bank published a report which said Uganda loses at least shillings 500 billion (about $200million) annually to corruption. Recently, there has been a scandal in the office of the prime minister where billions of taxpayer's money was stolen by government officials. Most of this stolen money was contributed by European countries like Ireland, the UK, Norway, EU as donations to help out rebuild Northern Uganda after the war. Of course a significant part of the reconstruction project stalled because of such corruption tendencies and donors have suspended their aid. This is not taking us forward.
Indeed, the current regime has introduced a few things that would pass for trappings from a welfare state. The country offers free primary school education and partly free education at secondary school level. The very bright students who join university education are fully sponsored by government more especially in the field of science and technology.
However, there is heated debate on the poor quality of education being offered in government run primary and secondary schools. As a quick solution, most Ugandans who can afford shun educating their children in public schools in preference to private schools. The same can be said of the state health sector. But as stated above, all this boils down to corruption which is due to lack of patriotism.
Tags: Africa, aid, Christine Lagarde, CLIMATE CHANGE, Corruption, Davos, democracy, developing countries, East Africa, economy, Karuma, Transparency International, Uganda, Ugnanda, world bank, World Economic Forum