Egypt: Heaven or Hell for Syrian Refugees?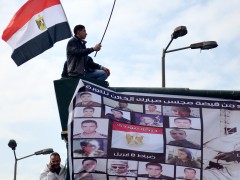 Out of the one and a half million Syrians living in Egypt, more than 300,000 have recently come here seeking a safe haven from the never ending shelling and bombing in their homeland. Thousands of Arabs, mostly Muslims, believed that Egypt is where they could start all over again and leave their grief and misery behind. However, this is not the case…
"If you wanna marry we have the bride for you. No matter what your circumstances, we will find the one for you. Virgins, divorced, or widowed women. We have conservative women, veiled or with Niqab, and Syrians. We offer efficiency, truthfulness, and total discretion. Call us immediately" reads a flyer distributed by the Al-Basma company for marriage in the Egytian city of Damanhour!
No, there are no legal companies for such marriages in Egypt. We have not reached this level of ignobility, at least not yet! However, there are certain factors that explicitly drive the emergence of such informal and illegal enterprise which I will now present.
But before doing so, it is important to emphasize that the swelling number of refugees coming to Egypt is no new phenomenon for us, as many Iraqis left Iraq and migrated to Egypt during the 2003 Iraq war. We also have a significant number of Palestinians and Sudanese living in Egypt, but even so we have never before witnessed such an excessive number of marriages with the Iraqis, Palestinians, or the Sudanese. Why should this be so?
In Egypt under the rule of the Islamist president Mohamed Morsi, the economy is deteriorating steadily from one day to the next. And the government does not seem to have any plan to revive it except through loans which will hit us severly before we even feel any benefits from them.
It is true that our economy was not flourishing under Mubarak when we received thousands of Iraqi refugees, but it is fair to say that the economy was at least functional back then.
Over the past two years we have also witnessed a spate of bizarre injunctions by ruling Islamists about marriage. For instance, demands by some Islamist figures to remove the law setting the legal age of marriage for girls at 18! These bizarre notions adopted by extremist Islamists have never been part of Egyptian culture. However, now that they are being introduced, it should not be astonishing to receive an invitation to marry a female Syrian refugee for EGP 500, given the catastrophic economic conditions of most Egyptians who cannot afford the expense of a normal marriage.
Away from the marriage issue, it is remarkable that Iraqis, Palestinians, Sudanese, some Libyans, and now Syrians chose to migrate to Egypt, even though it is not a wealthy country. Keeping in mind that previously nationals of these states fled to Jordan, Lebanon, and some other countries too, the reason behind their decision to settle in Egypt is definitely historical.
Throughout its history, Egypt has been a hub for all Arabs. Its teachers and intellectuals played a crucial role in teaching many Arabs, Egyptian soldiers shed their blood for the unity and liberation of Arabs in many wars – the war of 1948, the war of Yemen in 1962, the war of 1967, the war of 1973, to mention only the main ones. Egypt also hosts Al-Azhar, the world's largest Islamic institution as well as the main headquarters of the Arab League.
These reasons are more than enough to motivate an Arab refugee to choose  Egypt for salvation. Now back to the Syrian case.
Knowing that job opportunities are scarce in Egypt, Syrian newcomers decided to establish their own projects in Egypt to earn their living. In less than a year, thousands of Syrian projects were established in Egypt, most of them as fast food shops selling Syrian 'Shawarma'. Syrians followed the track of Iraqis and decided to live in the 6th of October city, on the outskirts of Cairo, establishing a Syrian community in the land of Egypt.
The presence of such a large Syrian community in Egypt has both economic consequences and cultural implications. Economically, the continuity of the Syrian projects will stimulate the economy, enhance competitiveness, and create some work opportunities. On the other hand, receiving more impoverished Syrians would also create an additional constraint on our failing economy which could promote the spread of immoral acts like these  'EGP 500' marriages. This would be the most significant cultural implication, as we already share many cultural norms with the Syrians.
Will Syrian refugees stay in Egypt forever? Will they return home if things get any better there? Or will they be forced to pack up and flee to some other country? These are all open questions because at present their future hangs very much in the balance.
Tags: arab spring, culture, economy, egypt, human rights, Islamists, Marriage, migration, Morsi, syria, Syrian Refugees, Syrian Revolution, women