Flea markets drive economic growth in Ukraine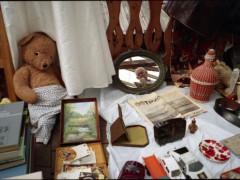 On weekends I often wander around a local flea market in Kyiv. I rarely buy anything but I love examining all the stuff people decide to get rid of to earn a bit of cash. Last weekend I noticed one woman who apparently had brought her tableware to market! I picked up one plate in embarrassment and asked for the price, then I asked her why she was selling her household stuff. "I only live with my husband, so two sets are enough for us", – she joked. Then we chatted a little and I found out she was a school teacher and her husband too. "We were both made to take unpaid leave, so to make ends meet we have to "invent some ways". I'm now selling our spare dishes",  she said.
I'd read about unpaid leave for employees of government-financed organizations such as schools and hospitals. Opposition MP Vitali Klitschko (the famous boxer) said total unpaid payments in social services were in excess of €200 million. "According to my data people haven't been receiving their salaries for anything from three months to half a year",  Klitschko said. And the MP is certainly right: the Ukrainian government is trying to get out of the economic pitfall by penalizing the poor. As the CIA says, the poverty rate in Ukraine reached 24% in 2010. In March 2013 a story about an old woman who had just enough money to buy one potato went viral.
Some people are talking about another "invention" for the benefit of state workers: some of them have to pay 10 EUR for "World War II veterans help". Those who don't pay risk getting blacklisted.  Such rumours are indicative of the widespread belief that the government is inventing such spurious "donations" to hide the fact that the social support system has collapsed.
The Ukrainian government on the other hand paints a very different picture to what opposition MPs are saying. For their cosy rosy view of things, go to the website of Ukrainian prime-minister Mykola Azarov where you'll find lots of optimistic information about economic growth in Ukraine. "We have growth right now," – Mr Azarov says – "Medicine production grew by 14%, foodstuffs – by 12%, house building – by 7,2%, IT export till the end of the year will make up about $ 2 bil". The State Statistics Committee claims that the average monthly salary has increased by 69% since 2009 and now stands at 322 EUR. It "modestly" adds that the amount of unpaid wages is the rough equivalent of 100 million EUR. But who cares? Officials  say Ukraine will be among the world's 20 biggest economics by 2020!
And I have to admit that part of the forecast has come true right now! The government has raised the ceiling on car purchases for local authorities. In September they've already purchased an "Audi A6 Limousine 2.8 FSI quattro AT" (UKR) for a mere 49, 800 EUR for an official in Khmelnytsky – a small town with 264,500 people in Western Ukraine.
I wonder how many plates and forks poor teachers will have to sell by 2020, the year when our economic growth reaches an all-time high?
Tags: austerity, economic growth, flea market, growth, growth vs austerity, inclusive growth, Salary, ukraine