Friendship among competitors: swimmers around the world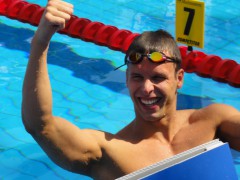 On April 30, 2012 Norway lost one of its best swimmers when 26 year old Alexander Dale Oen died of cardiac arrest. During the London Olympics more fellow swimmers remembered him.
It was a shock for the Norwegian nation. Oen was one of their favourites, a very successful and much-loved sportsman. He was world champion and holder of the European title, and earned Norway's first ever Olympic medal (a silver) in Beijing in 2008. He became the first Norwegian male swimmer to win a medal at a major international championship.
His last big success was the 2011 World Championships, when he won the gold medal in the 100 metre breaststroke. At the award ceremony he emotionally commemorated the victims of the Oslo attacks three days earlier, and by doing so became even more of an icon for the Norwegians.
When they heard about his death, his competitors offered Oen's family their condolences, remembering him as a very good friend and telling stories about the times when they trained or competed together.
A few months later, the Olympic Games started and people remember him again, saying that, had he been there, he would have won. Nor have his fellow swimmers forgotten him. When Hungarian swimmer Dániel Gyurta won the 200 metre breaststroke, he offered a replica of his gold medal to Oen's family as a tribute to the man and in honour of their friendship, saying that Oen would surely have won the 100 metre breaststroke. South African Cameron van der Burgh, who won gold in 100 metre breaststroke, dedicated his performance to Oen. He was the first South African man to win an individual Olympic swimming gold.
What does this story tell us? As I understand it, it shows that true friendship is possible among top athletes, even if they are competitors. Regardless of their home country and nationality. Norway, Hungary, South Africa – if we look at these countries in the context of our Lead Article, there is an obvious difference among them when it comes to resources and development status. (I can compare Hungary and Norway, because I am from Hungary and currently living in Norway.) Still, it looks like Hungary's achievements are not negatively influenced by the stark economic and development differences: its swimmers and other athletes perform very well at international championships.
When discussing the Olympic topic with the regional editor for Central and Eastern Europe, Corina Murafa, she pointed out that it looks like differences among top athletes tend to fade once they get to the top of the pyramid. Perhaps she is right. The hard part seems to be the strenuous climb to the top. Did athletes from Hungary, South Africa and Norway, – developed and less developed countries – have equal chances to obtain these medals? Honestly, I don't know.
Anyhow, it's comforting to remember that the Olympic Games are not only about competition but about respect and solidarity as well. It's good to keep in mind the fourth fundamental principle of Olympism: "The practice of sport is a human right. Every individual must have the possibility of practising sport, without discrimination of any kind and in the Olympic spirit, which requires mutual understanding with a spirit of friendship, solidarity and fair play."
Tags: Alexander Dale Oen, friendship, Hungary, london 2012, Norway, Olympics, swimming