Inclusive Growth and Apartheid's Shadow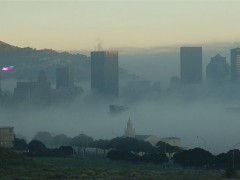 South Africa is soon to enter its twentieth year as a democratic nation. Looking back over the 19 years of its existence up to this point, it is evident that, as with most teenagers, South Africa's ride has been far from smooth.
While South Africa has experienced significant and consistent economic growth as a nation since 1994 (as illustrated by its recent inclusion in the BRICS group of emerging national economies and the G20), the majority of South African citizens earn less than $400 a month and are forced to live in underprivileged and overcrowded townships where crime, disease and drug abuse are often rife.
In many cases, these townships are an enduring legacy of the former apartheid regime; they were intentionally situated far from the previously 'white' and more affluent areas and their residents continue to face geographical as well as socioeconomic obstructions to the "better life for all" South Africa that was promised by Mandela all those years ago.
There have been various attempts to rectify this situation, starting out with the Black Economic Empowerment (BEE) programme that was implemented soon after the 1994 elections and was based on U.S. positive discrimination measures. BEE looked to redress the inequalities of apartheid by giving the previously disadvantaged black majority population economic privileges formerly not available to them through measures such as employment preference and preferential procurement, black skills development, ownership, management and overall socioeconomic development.
However, as Archbishop Tutu and others were quick to pointed out, Black Economic Empowerment for the most part had little impact on the transformation of big business ownership and only served a small elite population (often in some way or other affiliated to the ruling African National Congress party). As Tutu underlined, the majority of black South Africans were still living in a state of "dehumanising poverty".
In response to such criticisms, in 2007 the original model was succeeded by Broad-Based Black Economic Empowerment (B-BBEE) with a view to distributing wealth across as broad a spectrum of South African society as possible. However, many feel that B-BBEE has still, thus far at least, failed to make the impact it was intended to.
The government has also given considerable support (both financial and otherwise) to companies in the corporate sector who look to engage in or encourage corporate social responsibility (CSR) programmes. Programmes that look to address racial or socioeconomic inequalities are particularly encouraged. But again, the positive effects of such measures have not proved substantial and many CSR projects are often seen as little more than handouts or token gestures that help large corporations and companies look more 'human' rather than having much sustained impact on the lives of South Africa's poorer citizens.
The failure up to this point to heal the deeper socioeconomic wounds that apartheid left behind, beneath the veneer of overall/national post-apartheid economic growth, can be seen in the numerous protests that are covered daily in the South African media. In fact, statistics suggest that South Africans protest more than any other nation in the world, and why shouldn't this be so when the Gini co-efficient index shows South Africa as having one of the highest levels of income inequality in the world (see map below).
The fervent support that the recently-launched Economic Freedom Fighters party (EFF) has garnered, almost exclusively from young and underprivileged black South Africans, provides further evidence of the leading African National Congress party's failure to erase the widening gaps between the few who are benefitting from South Africa's growth and the vast majority that has been left out in the cold.
The EFF is led by the firebrand disgraced former African National Congress Youth League leader Julius Malema, who counts Zimbabwean strongman Robert Mugabe amongst his idols and has long championed controversial measures such as the nationalisation of all South African industry and the seizing and redistribution of white-owned land to black South Africans without compensation for the white owners.
Many of the young generation of EFF supporters are "born frees", that is to say they were born after the fall of apartheid. But largely poor, uneducated and unemployed, their "freedom" is more symbolic than an actual economic reality. This young generation represents a little less than half of the country's entire population and the coming general elections in 2014 will be their first chance to vote. Improving the lives of these "born frees", so often referred to as the "lost generation" by politicians and the media, is crucial to any sense of sustainable all-inclusive growth in South Africa.
But marking a different box on the ballot sheet is not going to facilitate the necessary changes anytime soon, if at all. The booming private sector is best equipped to take on the challenge, and fast-advancing cities such as Johannesburg and Cape Town seem to have woken up to the potential that social entrepreneurship in particular has for stimulating inclusive growth in the country.
It is encouraging to see the new crop of young South Africans that are starting their own businesses and projects in the field of social entrepreneurship. Among the shining examples are Zanele Mabaso, Kolawole Olajide and Ludwick Marishane.
At the tender age of 24, Mabaso represented South Africa at the 8th International iLIVE2LEAD Young Women's Leadership Summit held in June 2013 at Georgetown University in Washington. Zanele is founder and director of the Young Social Entrepreneurs Academy, wihch focuses on career-based and community-oriented skills development for young unemployed South Africans.
Olajide, still just 21 years of age, created an online learning management system called Funda which brings together necessary but so often lacking educational resources for teachers, students, and parents. This system has begun to spread to a range of different universities throughout South Africa.
Recent University of Cape Town graduate Marishane earned the 2011 Global Student Entrepreneur of the Year Award for his product, DryBath, which is a clear germicidal and moisturising gel that's applied to skin in the manner of waterless hand cleaners. This product can improve the lives of millions in poor areas where lack of regular access to clean water leads to reduced basic hygiene and lower quality of life.
The state should recognise the potential these kinds of young social entrepreneurs have and look to foster greater coalescence between itself and this part of the private sector, as well as doing more to encourage entrepreneurship as a career path for high school and university learners. After all, entrepreneurship and innovation have been an innate part of the South African culture for centuries. So too has the notion of Ubuntu, which equates loosely to a shared sense of humanity. Both are clearly manifested in social entrepreneurship, and the state would do well to remember this. Only then can both the South African economy and all of the nation's citizens walk onwards and upwards side by side.
Tags: Africa, developing countries, Development, economic growth, Social entrepreneurship