Media and corruption in Croatia: Beyond the numbers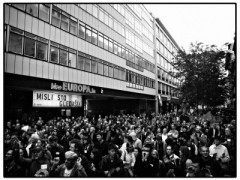 Croatia may be on its way to join the European Union, but the country has made little progress in securing the media's independence from political power or in the fight against endemic corruption. Still, youth activism and independent, online participatory media offer some reasons for optimism.
It is always difficult to read about your country and stay neutral. And, even if you are the first one to criticize it, you feel betrayed when someone else does it for you.
So when I first read the Bertelsmann Stiftung report, Transformation Index 2012, I wanted to shout and protest, because my country, Croatia, is reduced to statistics, just a number among the others. And I didn't like the numbers.
We have been downgraded since 2008 both in terms of the quality of our democracy (from 8.85 to 8.4) and our market economy (from 8.29 to 8.1). There is also a regression of our Gini Index, the measurement of inequality, from 29.0 in 2008 to 33.7 today, a sign of the country's growing divide between rich and poor.
These numbers also surprised me: after all, aren't we that one Balkan country which has successfully completed negotiations to join the European Union and which has tamed the corruption monster? And this, after the country escaped from the "dark ages" of Yugoslavia's breakup and war in the nineties.
No. The Bertelsmann report says clearly that the situation in Croatia has deteriorated since 2006, failing to provide a genuine democratic and legal framework for its citizens. Moreover, it draws attention to the lack of independence of the media, claiming that journalists are often threatened.
And there, I am afraid that Bertelsmann might have been right.
Croatian media: Between politics and Page Three
Indeed, the situation of Croatian media is of particular interest to me as an aspiring journalist. It also saddens me. The biggest Croatian press media are held by a financial group called Europapress Holding, which includes daily newspapers, but also magazines such as Cosmopolitan, Playboy, car and astrological magazines, and much more.
Let's skip the polemics surrounding the ties of friendship and conflicts of interest between the owner, Ninoslav Pavić, and several leading Croatian politicians, and instead focus on the content of the biggest newspaper, Jutarnji List (Morning Paper). The daily paper which is supposed to be the country's leading opinion-maker looks more and more like a tabloid – especially its web version, which reserves more space for topless girls that it does for important international or even national events.
Another influential newspaper, Novi List (New Paper), was bought, in 2008, by Robert Ježić, a wealthy entrepreneur, with close ties to the highest political circles. Of course, during the reign of Mister Ježić the then-Prime Minister Ivo Sanader could not be criticized: they were good friends, after all.
Former Prime Minister Sanader is currently awaiting trial for corruption over a loan from an Austrian bank in 1995. He denies wrongdoing. He is also the most high-profile figure arrested in Croatia's recent anti-corruption drive.
Subtle power games can be felt in the programs of the three channels of Croatian national television. A few months ago, the evening news anchor Zoran Šprajc was suspended from his job because he decided to show a reportage that "the leading structures" didn't like.
And the leading structures usually don't like to be part of the news because it often means that a new corruption affair has broken out.
Corruption: The tip of the iceberg
Recent pressure from Brussels has driven the country to tackle our widespread corruption problem. However, this is only the tip of the iceberg. Despite some important anti-corruption steps forward, it is still one of the biggest problems in Croatian society, deep-rooted and present in the highest political spheres. Nepotism too is an everyday thing: if you have connections in the right places, you won't have to wait in a line in hospital and you will easily get a (good) job or enroll in university.
There is a joke in Croatia:
– "Dad, dad, I want a job", says an 18 year old son to his father.
–   "Ok son, I'll call my friend in the government, you will be his assistant, and you will get paid 2,000 euros per month for doing nothing [a huge salary in Croatia]."
–  "But I don't want to be a politician".
–  "Ok, then. I will find you a job in a huge law firm. You will still be paid 2000 euros. You won't have to work at all. Let me call my friend."
–  "Hmm."
–  "Listen I can get you a job in an economic think-thank. The same pay and…."
–  "I would like to start with a job where I will have to work. I could be paid less."
–  "Well then, for that you will have to finish university first".
An average Croatian citizen is so used to nepotism and corruption, that he feels he can't actually change anything in his life. So he stops trying.
On the other hand, some positive changes happened in the last couple of years. Independent internet news websites, popular especially among young people, appeared. The same young people began to protest three years ago, claiming their right to free college education, demanding a government change, a job for them, highly educated: for a country emerged from a communist Yugoslavia, this new born wave of protests gives hope.
It shows that the young generations care – about the future of their country, about the environment, about the fight against the corruption. It may not be a new "Croatian Spring", but it is surely a good start.
Tags: BTI Transformation index, Corruption, Croatia, Media, protests