Mongolian Sportspersons Do their Country Proud!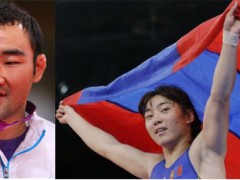 We were all affected and inspired by Olympic fervor and it was a proud moment for Mongolia when  a Mongolian woman wrestler, two judokas and two boxers won a total of five medals at the 2012 London Olympics.Wherever I went people were talking about the judokas  and boxers at the Olympics in London. People were watching TV and encouraging and cheering them on  in many clubs and pubs.
Mongolia is a country where almost "every man is born a natural wrestler" and the traditional nomadic lifestyle ensures that every boy  becomes a well trained  horseman- which requires a lot of ability, strength and balance. For Mongolians the words "horse" and "wrestler" denote national  pride.
"Congrats.You have made your country proud. We are proud of you!" Such Facebook  posts over the past weeks have struck an emotional chord in us.We were even happier when Tuvshinbayar Naidan, the judoka and  winner of  the gold medal  for Men's Judo at the Beijing Olympics 2008 won a silver this time in London. With his earlier victory in Beijing, Tuvshinbayar had become a symbol – a messenger for  peace and unity- for all Mongolians.That was indeed a proud moment for the country as it was the first time ever that Mongolia bagged a gold at the Olympics.
Five people were killed in the July 1st riot following the parliamentary elections in Mongolia in July 2008, and the aftermath looked grim and troubled. Fortunately, the first gold medal that year in Beijing gave us a chance to change the outlook. The  blissful moments of the Olympics which all Mongolians experienced removed the clouds of political disappointment in just a few weeks. Disagreement and political distrust were  eliminated by a powerful wave of hope for better change. A sense of  national pride, peace and unity prevailed again amongst the people. Citizens assembled in Sukhbaatar Central Square spontaneously-with no one calling on them to do so. Cars fluttered the Mongolian flag as they drove past. There was an air of jubilation among  the young people.
That Olympic victory was a  glorious time  for Mongolia. The Olympic winners celebrated by dancing and singing in the same place that just a few weeks ago had seen armoured vehicles threatening people. Even opposition party leaders came out and  held each other's hands in front of the crowds  and some of them were even high and merry on alcohol – it looked like they had never really hated each other. Ever since that time, political distrust is gradually dissipating as people want more peace.
This year Mongolia won five medals in London. Battsetseg Soronzonbold was the only women from Mongolia to win a medal, taking bronze in women's freestyle wrestling this year and making us  proud. Togstsogt Nyambayar and Munkh-Erdene Uranchimeg took a silver and bronze  medal  respectively in men's boxing. And Tushinbayar  Naidan and Nyam-Ochir Sainjargal won a silver  and bronze in judo.
There is hardly a boy who has not tried wrestling when he was young. Archery, horse racing and Mongolian wrestling are an inseparable part of our traditional culture related to the nomadic Mongolian lifestyle. Translated  as the "three games of men" or  Eriin Gurvan Nadaam celebrated  by our ancestors from  ancient times.
Time has changed the meaning of  the "three games of men", however, and the male dominated Naadam festival has been modernized by allowing the participation of girls and women and is now a famous festival celebrating the nomadic culture of all Mongolian nationalities. If you come to Mongolia during Naadam, you can see boy and girl child jockeys riding horses and men and women competing in archery.
Nowadays the Naadam festival is  held throughout the country during the midsummer holidays. It provides an opportunity for the political elite and the ordinary people, the herders and the urbanites, to come together and reaffirm their common Mongolian identity and culture.
Sports is something that unites Mongolians and instills in them a sense of patriotic pride. It is also directly related to economic development. While other nations might be in recession Mongolia is experiencing an economic boom. And this prosperity has made sufficient funds available for training of the athletes. And why not? For a nation so proud of its traditional sporting activities and also being naturally blessed with sports "in the genes", we can definitely make it better. What better opportunities are there than modern sporting events such as  the Olympics to encourage  participation and victory for Mongolians!
Tags: archery, boxing, culture, judoco, medals, Mongolia, Nadaam, Olympics 2012, Proud, traditional sports, wrestling