Music and Medicine: A global NGO fundraiser to save lives in Egypt.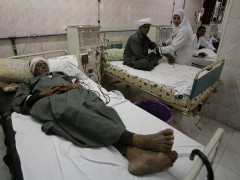 Let's face it- healthcare is not the top priority of many of our governments. At least in the Middle East, it certainly isn't. Many patients in Egypt resort to private healthcare facilities for the abysmal state of public hospitals– that's not to say that the private healthcare organization is not without fault.
But in the shadows of an ailing healthcare system, emerges a flicker of light. An initiative by an international non-profit to raise money to bolster the condition of medical services in Egypt perhaps highlights the potential role of NGOs and civil society organization in improving health in developing countries.
A global non-profit dubbed Human Appeal International (HAI) is organizing two concerts in the UK this January, dedicated to raising funds to invest in medical equipment that will help provide training for 10,000 medical practitioners in Egypt.
The weekend tour will feature performances
by Egyptian singer Hamza Namira, a young yet extremely popular musician famed for his revolutionary songs in the aftermath of the 25 January revolution. The money donated in the two-day event, which will kick off in Central London with a live concert by Namira on 26 January followed by a fundraising dinner in Birmingham on 27 January, will be help HAI purchase training equipment that will be used to train and educate medical staff in Egypt, effectively saving thousands of lives.
Syrian artist Yahya Hawwa will also perform live during the tour. HAI has recently launched a charity initiative to deliver flour to Syria in an effort to support local bakeries, where bread supplies are at a staggering low due to the continuing turmoil.
Human Appeal International first emerged in 1991 to help alleviate the famine in Sudan, and has since expanded its relief and development operations worldwide, with particular focus on Arab world countries including Palestine, Syria, Jordan, Lebanon, Yemen, Sudan, Tunisia and Libya.
Today, HAI has a mission; to mobilize towards overcoming poverty and social injustice, through providing relief to victims of disaster or poor living conditions, and adamantly working to preserve human rights.
Human Appeal International tells Future Challenges  about its work in the Arab world and their endeavor to raise funds to invest in medical supplies for Egypt.
FC: Egypt's got a vast range of needs, such as poverty eradication, investment in education, preserving basic human rights. Why did Human Appeal International decide to focus on providing medical aid to the country?
HAI: Human Appeal International has three strands of charity work: emergency relief, sustainable development and orphan sponsorship. Our dedication to providing sustainable development and establishing foundational platforms for the progress of people in need, is an essential aspect of our work. While HAI has a limited amount of resources, Egypt is a developing country with many and varied needs. In the case of Egypt, field research and our partnership with five Egyptian-British organisations has influenced our decision towards focusing our efforts on elevating the quality of healthcare in Egypt. Statistics show that the number of deaths and complications caused by maltreatment of medical practitioners in Egypt is a serious problem. Therefore, we have dedicated this project to addressing the need for lifesaving medical aid and facilities which will contribute towards a long-term establishment of trained medical practitioners and better medical aid across the country.
FC: How did HAI first learn of the need for medical training equipment in Egypt? Do you work with local NGOs or doctors?
HAI: On this project, we are in partnership with several organizations, including the Medical Arab Society UK. All of our partner organizations are composed of Egyptian doctors living in the UK who are in close contact with the ground situation and needs of their home country. Therefore, we have together chosen to focus on a narrow but long-lasting project that will fulfill an essential gap in the healthcare system of Egypt.
FC: What is the expected turnout and scope of fundraising during the weekend tour in London? And how will the money raised be used?
HAI: We aim to collect £200,000 throughout Human Appeal International's campaign to raise funds for medical aid in Egypt. Some of this money will be raised during the weekend tour; we will then continue to raise the rest of the money. We will be dedicating this money towards medical aid, which includes establishing two simulation training units in Egypt. This aspect of our medical aid alone, will provide training to 10,000 medical practitioners in Egypt, during the first year of their establishment.
FC: Has Human Appeal International previously participated in any other aid initiatives in Egypt or in the region?
HAI: We been involved in projects in Egypt including orphan sponsorship, Qurbani, feed the fasting which we also deliver across the globe. We have also been involved in several aid initiatives, emergency relief and long term sustainable development work campaigns in Palestine, Syria, Jordan, Lebanon, Yemen, Sudan, Tunisia and Libya in the Middle East region.
FC: In your view, what is the role of non-profit organizations and civil society at large in providing health care support in developing countries?
HAI: Programs sponsored by NGOs are essential for improving health in developing countries. As well as the financial support to provide medicine and services which may not always be available NGOs are a major source of expert technical advice and training for local health professionals. This again is reflected in the medical delegations that we send to Palestine regularly and also in the project we are implementing in Egypt, which this concert is raising money for.
Tags: egypt, Human Appeal International, Jordan, London, middle east, Non-governmental organization, syria, Yahya Hawwa