Unboxing empathy: The hidden city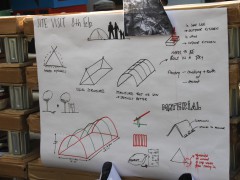 There's a hidden city within Delhi. It is inhabited by 2 million people. Every night it materializes around 9 PM and disappears at 7 AM. I am not talking about a magical Shangri La. Rather it is the city of  the homeless. The city mushrooms under flyovers and by footpaths. Every night, the homeless wearily build a makeshift tent with whatever they can afford – often tarpaulin sheets, bamboos and stones. They cannot afford a good sleep, as often the structures are unstable, poorly ventilated and insulated, unsafe and exposed to disturbances such as police evictions. Vigilance demands a tent that can be dismantled within minutes and quickly folded and stored away.
So many problems and such paucity of resources! Delhi authorities are not blind to these issues, but the money earmarked (as is the case almost always in India) gets siphoned off by corrupt officials. Over 80 million Indians live in sub-standard housing. Around 8 million Indians are homeless.
At the recent Unbox festival, Micro Home Solutions (MHS) tried to find solutions for this pressing problem. It is a reality that surrounds us and yet somehow a reality we have learnt to avoid. The government is apathetic and so are we.
My interaction with homeless people has been limited though it has always felt like a slap on the face, because of the sheer raw vulnerability of their situation. Earlier when I used to stay in Mumbai, I had to walk through a slum (a shortcut) to enter my apartment building. At first my reaction was one of astonishment – the sight & smells were overwhelming. This quickly turned to nausea as I began to learn to avoid 'this corner' of filth, 'that corner' of broken tiles' and so on. And eventually, it all became just part of my routine – I began to walk by without noticing the abnormality of the human condition there. And then, I once saw a man sitting on the pavement – unmoving, gazing into nothingness – while his young child lay bawling by his side and his wife sat in a far corner eating leftovers. The experience troubled me a lot. It was one of the reasons for me to quit living in Mumbai – the Mumbai experience is overwhelming.
MHS and  Urbz, an architect design studio, however, have gone beyond simply being overwhelmed. They are redefining our notions of development, urban spaces and citizenship; and in the process creating innovative solutions for housing problems for the urban poor. For instance, MHS shared a business plan for providing affordable housing solutions to the urban destitute. Marco from MHS said that it is possible to provide small houses for rent at Rs. 5-8 per day. He projected breakeven in 18 months. In his view however, wrong behavior is being incentivized with the belief that poor should not pay – which results in the impasse of complete inaction.
1. Workshop – Transient Living spaces by MHS
Often, homelessness attracts policy-level solutions that are not all that effective, since the process does not involve the actual citizens. Solutions such as centralized night shelters (communication, convenience issues), distribution of blankets (homeless would rather sell the blanket and buy food) do not always work. MHS approached the problem differently. They tried to understand the current behavior of the homeless and decided to improve design with the materials they already use (or can forage for).
The objective of the workshop by MHS at the Unbox festival was to build a single-person night shelter that is safe, flexible and affordable. In line with the credo of the Unbox festival – 'hands on, minds on, hearts on', we ourselves worked with bamboo and tarpaulin in an effort to figure out better ways of building tents.
How revealing it was, the many permutations and combinations of simple bamboo and tarpaulin sheets! One of the ideas was even built and showcased as a prototype at the Unbox Festival.
The presentation by Tiffany Talsma, (minus PowerPoint) of Waste ventures was one of the best presentations I have heard in a while. It was passionate, honest and enlightening. As a strategy professional and new venture hopeful, I learnt a great deal as the presenter took us through the journey of the startup. The team went through several iterations – first as consultant (failed), second as venture accelerators (failed) and lastly by themselves getting into the thick of the action – training rag pickers and managing waste – garbage collection, segregation & composting, processing, reselling & proper disposal. The venture hopes to break the vicious cycle of the rag picker's economy which puts his health at risk, keeps his income low and incentivizes corruption and environmentally harmful practices. This it does by empowering the rag picker while keeping his risk-aversion in mind – starting with a small, bottom up approach – decentralized management, sharing best practices, and including community and stakeholders in the business development.
The system is currently being deployed in a few small towns in north India, with encouraging initial results.
Lessons learnt:
1. Business at the 'margins' of the society can be profitable and an effective  catalyst for social change
2. People will pay for services that they perceive are valuable. (Waste venture customers, the small town families (90% payment rate!) are paying Rs. 50-60 per month for the service of garbage collection.)
3. A private, bottom up approach is feasible (and often a better way to build pioneering businesses)
4. Iterate. Fail quickly. Constantly improve (From what I heard in the festival, it seems that often successful ventures and projects were so in part because the people running the project factored in the possibility of failure and were ready to start over again or make necessary changes.)
Tags: collaboration, creativity, design, entrepreneurship, homeless, housing, india, Social entrepreneurship, Unbox festival, waste