Ninjas Threaten Way of Life in Mongolian Grasslands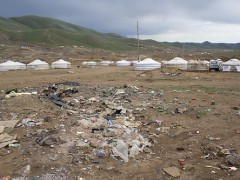 "Ninja"–or artisan miners–in Mongolia are people who dig dirt, live like outlaws and seek gold on old/used mining fields. There are around 5000 such artisan miners working in Uyanga soum /village/ of Uvurkhangai aimag / province/ in Mongolia, today.
It was rumored that ninjas were reducing in last few years but to the contrary the numbers are increasing to 10,000. During summer the area where Ongi river starts which is the range named Taats coming from Khangai mountain is crowded with them.
It seems more understandable why the Ongi river has dried up. The Ongi river begins from this mountain run through four aimags including Uvurkhangai, Umnugobi and Dundgobi. I remember in an article published last year on NomadGreen.org that an old man waited desperately for this river to come back to his mother land again.
This waiting process was like parents waiting with high belief that their son/daughter would return home after a long wait.
The evaporation of the Ongi river has made many who live in Gobi suffer for the past ten years. Mongolia is the most effected area from desertification, especially in Gobi, water supply is a really one of priority at this moment. The Ongi river was the only resource of Gobi's life. But, because there are more than 10,000 ninjas digging dirt at the very beginning of this river, they are clogging, destroying and poisoning the source.
A group of journalists, including Italian journalist Gabriele, came to this place to report about artisan miners. Many people were working here and there between the dumps, picking up some dirt and washing them in the pools among the hills. You can see a lot of ghers /traditional Mongolian yurt/ of different shapes-round that are now roofless and dilapidated. These are the residents neglected by the Ninjas that have moved on to other places to dig up, litter and add to the destruction of the landscape.
A police officer we met said "…now is rush hour for ninjas because summer vacation has started". According to his words, it is not a surprise to know that this work employs a lot of children during their summer vacation.
Away from us, one excavator were destroying the highest dam which is called "Eifel" by local people. All those dam were left from "Erel" mining company who had extracted gold in this area 20 years ago. There were many scandals involving this company where local NGOs claimed that the "Erel" company was not doing their job of rehabilitating the mining fields and not following the law of Mongolian natural resources. But the "Erel" company still remains silent about the rehabilitation until now.
After "Erel' company left this field, Ninjas started to work here for last 15 years. From year to year they extend the dug up fields by digging more and more and now they are digging untouched fields in the area.
The rest of this big mountain will be diminished if they continue digging for another 10 years.
Ninjas sitting around the pools among the hills, washing and rinsing the dirt along the basin did not pay attention to us when we were taking pictures and videos. Most of them seemed to be women and some of them looked so young. They were sitting on the stoop, staring at the basin and seeking something carefully. After they rinsed, they found some "dust" of gold at the end. That was a precious moment for them. By accumulating all the dust, it will be more like a small piece of gold.
Some of them were "smaller" /newer groups who also worked in the old extracted mining field. They came here together with their friends or relatives during summer and returned in winter. Their daily income was even less than others who live here and work continually. Sometimes they earned nothing for months, and even owed a huge debt for food during their stay there. They said sometimes they just prayed for earning at least enough money for transportation back home.
Meanwhile the poorest were merely praying to find at least a little amount of sand that could pay their bread. Some people were satisfied at their living status and thinking about how to continue their jobs. We also met some ninjas who criticized the Government, because they had no support from the government when they want to improve the technology adapted for artisan miners. I suppose these ninjas, who live and work constantly here, earn enough money, but illegally.
Usually they joined ninja groups with relatives and friends. Each group's leader was someone local and semi-educated. I noticed that people who were newest or poorest had to go first, usually to the dangerous post such as entering the deepest hole and take the earth from it.
This kind of random, illegitimate and unmonitored practice has had huge implications on the vast grasslands of Mongolia. Not only are these mining fields being left in disrupted, un-rehabilitated conditions but as said earlier, scarce water sources are being threatened making it very difficult for people/ nomads who live full time in those regions.
Tags: mining, Mongolia, Natural Resources, poverty