No real austerity in Slovakia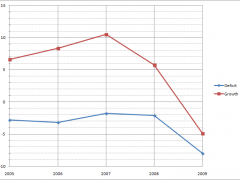 Even in previous decades during years of high growth, Slovakia still ran up big deficits.
To enter the euro area a country has to meet a reasonable set of criteria known as the Maastricht criteria. This means that a country which gives up its local currency must keep its deficit under 3%, and its total debt under 60% of GDP for 3 years in a row before joining the euro zone. Thanks to the last bubble just before the economic crisis really set in, we succeed in this.
Then in 2009 everything changed suddenly.
Slovak public deficit and GDP growth, data from Ministry of Finance compiled by the SME newspaper.
State income collapsed. The socialist government, inspired by other European states, started a wave of spending, directed of course at companies owned by party sponsors. For example, despite being poor by EU standards, Slovakia paid much higher prices for highway construction than the European average.
The next government (formed by right-wing parties) introduced a new law for transparency in public spending and public procurement. It pushed prices down. Without changes in technical norms, the same construction companies were then able to offer 40% lower prices.
Other measures were also introduced, and government spending as a percentage of GDP finally started to fall.
Slovak public finance: income and expenditure, data from the Ministry of Finance compiled by the SME newspaper.
The balancing act didn't last long, because at the end of 2011 the government fell due to a conflict of opinions over the EU bailout fund.
Returned to power, the socialist government started to spend again. To keep deficits lower they concentrated on higher taxation and fees for companies, small entrepreneurs and partial employment (changes in the law led to many people leaving their – often second- part-time jobs). A new labour law aimed to avoid firing made employing new staff more expensive and less flexible.
Government debt has doubled since the start of the crisis. And unemployment has grown, especially among young people. Many people who couldn't find employment at home moved abroad, especially to Austria and Germany.
Protesting doctors and underpaid teachers have had wage increases. The majority of civil servants, however, have seen their incomes frozen over the last three years. Naturally, the private sphere is also not very keen on the idea of higher salaries.
In the face of austerity measures and uncertain growth prospects, people have limited their consumption. Yet in a small country shopping abroad is easy. This move of the people to buy cheaper untaxed products in the grey economy (reinforced by their unwillingness to "give their last cent to this government") has also decreased government revenue.
For 2012, the planned deficit was "just" 4.6% of GDP. In fact, this means about one quarter of government income. Despite cheap loans, nearly the same amount has to be used for paying back debts.
Even under the pressure of markets suspicious about high deficits, the government is still searching for ways to spend more.
On the other side, the center redistributes less to provincial counties, cities and villages.
Slovak public finance, towns and villages: income and expenditures, data from the Ministry of Finance compiled by SME newspaper.
This is also the reason why our roads are in such terrible state.
To sum up, in Slovakia there is no real austerity at the central level. So-called austerity is just a buzzword which enables easier redistribution of money. Government spending is inefficient, with government concentrating its subsidies on selected big players. Debt is growing faster than the GDP while corruption and the grey economy are creating inequalities which discourage people and businesses who want to "play by the rules". Because of clumsy state intervention, conditions for businesses have been deteriorating. What's worse, the tab is paid by the common people in taxes, fees and unemployment. To top it all, should we have early elections tomorrow, the incumbent party would win again…
Tags: austerity, budget deficits, Central and Eastern Europe, Corruption, debt crisis, economic crisis, globalization, growth, public procurement, public spending, restoring growth, Slovakia, sovereign debt, spillover effect