After dark in Melbourne: Women in the sex industry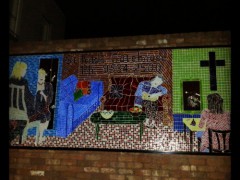 Recently voted the world's most liveable city, Melbourne is known for its food, festivals and football. Poverty is not a theme often attributed to Australia's second largest city. However as the city rapidly expands – three of the country's fastest growing postcodes are in Melbourne's north – not everyone is being swept along in the waves of economic development.  For those who fall through the cracks, getting by is a daily struggle.
For many young women, the bright lure of the sex industry – high pay, shorter and flexible working hours – can be a temptation too great to resist. In dark contrast, the sordid reality of the actual industry is that it exposes women to abuse, intimidation and violence, is riddled with drugs and has a growing illegal underbelly.
Statistics are not published regularly, however Project Respect, a Melbourne based organisation working with women in the sex industry, has found that 73% of sex workers have experienced sexual abuse, 60% have experienced violent relationships and 33% of women were homeless. Other studies by Sacred Heart Mission and Off Our Backs show that sexual abuse, domestic violence and drug abuse are prevalent amongst sex workers.
The inner city suburb of St. Kilda is home to the city's red light district. At its heart is Greeves St., where each evening women walk the streets and men prowl in cars. The St Kilda Gatehouse is one of a few organisations offering support to women, by way of counselling, material aid and advocacy.
I met Debbie* at the St Kilda Gatehouse shortly after sunset. On the streets for over ten years, Debbie explained that most women end up there because of their dire economic situation, a drug habit (crystal methamphetamines or heroin, or both) and often a history of sexual abuse. She stated resolutely, that in her experience, women turned to the streets so as not to commit 'crime,' that they would rather be 'prostitutes' than 'criminals.
The primary concern for Debbie and other 'working girls' (the preferred term) is safety. She highlighted the recent murder of Tracy Connelly. Debbie explained that the girls' boyfriends or minders provided little protection or abused the girls themselves, while there were few outreach services and the police were 'corrupt.'
Club Keys, a legal brothel in Moorabbin, is managed by Julie* a second generation sex industry worker.  Julie explains that women come to work in her brothel for similar reasons to those on the street.  She also sees an industry in which, despite the high wages and flexible hours, women are unable to break out of their poverty, either lacking the financial skills or social support or because they are dragged down by addiction.  Julie estimates she has witnessed 5 or 6 girls 'make it out,' while the majority are unable to do anything meaningful with the money they earn. Julie also speaks of a rapidly growing illegal industry. Increased regulations, frequent visits by police and immigration officers and invasive medical examinations, are driving women out of legal brothels, into the underground. This is alongside the increasing and well organised trafficking of girls from Asia into illegal brothels.
Economic alternatives for poor, undereducated women do exist in Melbourne, such as retail work, hospitality or hairdressing and beauty therapy. However, the impression I received is that once women are 'inside' the sex industry, extricating themselves is next to impossible. There is a lack of widespread and user-friendly services, compounded by intimidation from authorities and at best indifference from mainstream society
With the population of Melbourne set to overtake Sydney within a generation, most of this growth in outer suburban 'poverty traps,' and recent cuts to single parent welfare, the risks and temptations for young women are only set to grow.
Tags: australia, economic growth, economy, GLOBALISATION, legal brothels, melbourne, prostitution, sex industry, Sex Trafficking, urban poor, violence against women, women in prostitution