Pakistani Poor Women in Cities: Challenges and Innovations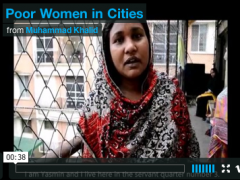 Ever wondered what it was like to live on only one dollar a day? Most of us who can read this post will not be able to imagine a lifestyle based on thirty dollars or less a month. Now imagine supporting a family of four or five on such a small budget. What kind of life would that be?
The following videos portray a small chapter of the lives of women who work as housekeepers or maids in Pakistan. Even in populated cities like Lahore these women have to work hard and in harsh conditions to make ends meet; there are no sick leaves, and there are no health services. Yet these women are survivors and heroes to their families as they keep them together and serve their husbands along with being mothers and daughters. They have small dreams, and even just being shot in a video makes them happy.
Their dreams are small and yet not easy to achieve.
They move to the cities from small rural towns in the hope of a better life, but is it really the life they expected? Or have they learned to accept the little they have. Do they not deserve more?
The Pakistani government does try to support the poor, but corruption and poor leadership do not result in a sustainable solution. The misery of these women is to such an extent that any little help or social initiative, like the Benazir Bhutto Fund, makes them feel hopeful and happier.
Life is not easy for these women, yet they try to find happiness in their children and their families. Their households consist of the most basic of necessities and their houses are only a single room big. Imagine squeezing in a family of five or six into a small room. Nevertheless, some of the women are happier after moving to the bigger cities of Pakistan like Lahore because the life in urban areas is much better than the rural areas of Pakistan like Nankana Sahib, and Jhang.
This last video shows these women's lives in a few pictures. It surely makes us question what we could be doing for others who are not as blessed as we are.
Tags: economy, karachi, pakistan, Poor Women, women