Papua New Guinea and the game of mining: who wins? who loses?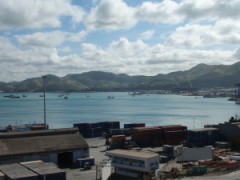 Hot. Stuffy. Noisy. White man dressed in checkered shirt and jeans. Oh and there's another one. And another one. Some carrying brief cases and laptop bags.  Some burying their faces in newspapers. Some intensely engaged in conversations on their mobile phones.
This is a typical scene at the Jackson Airport in Papua New Guinea's (PNG) capital city of Port Moresby.
A view of Port Moresby Harbour from Paga Hill. Photo taken by Kate Morioka
"Where are you from?" a voice asks, interrupting my social watching.
"Ah…Brisbane. And you? Where are you from?" I turn to face a solid man, who is also dressed in a checkered shirt and jeans.
"I'm from Brisbane too. I'm waiting for the flight to Lae as I have a job interview with a company that supplies for the mining industry." He glances over at the TV monitor, which still signals "delayed" next to the Air Niugini flight heading to Lae.
"Do you work for the mines?" he asks me curiously.
"Oh no, gosh no," I reply. Two years earlier, I had made a decision not to work for mining companies due to ethical and moral reasons. I wouldn't call myself as being anti-mining but I definitely oppose extractive activities that are economically, socially and environmentally unjust.
"I thought you were here because of mining, just like everybody else," he smiles and his eyes gaze back to the TV monitor.
He is right. There's no hiding that PNG has become a mining hot spot, attracting hundreds, if not thousands of fly in and fly out workers every week. Whilst the mines are located in other provinces of PNG, all of the connecting flights leave from Jackson Airport and since flights are frequently cancelled or delayed, Port Moresby becomes the transit hub for many mining-related workers.
Those working for the mines view the mining boom as an opportunity for PNG to grow its economy and lift thousands of people out of poverty. The PNG Government agrees. Millions of Kina are being injected into the national economy, thanks to the mining industry. Take for example, ExxonMobil's PNG LNG (liquefied natural gas) project, which will transport gas from the Southern Highlands and Western Provinces of PNG to the processing plant in PoM through pipelines that stretch over 700 kilometers. The project is estimated to be worth US$16.5 billion.
But not everyone benefits from the burgeoning economy. According to the United Nations, out of the total population of 6.3 million, 86% (or 5.4 million) live in rural areas (2007).  Infant mortality rate is 57 per 1,000 live births and the under five mortality rate is extremely high at 75 per 1,000 live births (2006). The gross national income per capita is US$850 (2007). In 2010, UNAIDS estimated that there were 54,000 Papua New Guineans living with HIV.
Most will assume that the mining profits will 'trickle down' to the poor, through government services and landowner royalties. This is far from reality in a country where corruption is rife and where disputes over land ownership can divide families, clans and communities. PNG is also full of examples where the environmental damage caused by mining has adversely affected indigenous people's access to fresh water, food, shelter and their health and wellbeing. During my stay in Madang on the northern coast of PNG, I heard many stories from landowners and local people who have been personally affected by the destruction left behind by mining activities. Mining does not necessary lift standards of living. Instead it can – and it has – make people worse off.
Inevitably, when living conditions go from bad to worse, people look for opportunities in urban areas. The rural-urban migration is happening at an increasing rate with urban centres in PNG experiencing an average annual urban growth rate of 2.9%. The informal settlements in and around Port Moresby have grown rapidly over the years as people migrate from rural areas to seek employment opportunities in the city. These informal settlements lack essential urban infrastructure, such as water, sewerage and electricity, and social and health services. Consequently, a number of residents in the settlements have died as a result of deadly cholera outbreaks in recent years.
In my view, mining has done more bad than good to the people of PNG. Yes, it has made a handful of local politicians and business people rich.Really rich. However they constitute a minority. The country's entire population, 6.3 million people, should all benefit from mining profits, particularly the poor and marginalised.  The clear winners are the likes of Exxon Mobil, Oil Search, BHP Billiton, Rio Tinto and other mining and resource companies that take what they need from PNG.
***
"Ladies and gentleman, the Air Nuigini flight to Lae has been cancelled. We apologise for the inconvenience," a softly spoken voice makes the announcement in the airport waiting room.
The word 'CANCELLED' is flashing next to the Lae flight on the TV monitor.
"I guess I'm going back to my hotel then," the man picks up his laptop bag and stands up. He waves his hand to say goodbye.
I nod my head and return his wave. As I watch him leave the waiting room, I find myself thinking: if only mining was cancelled too. Then people would be going back to their villages and claiming back their waterways, forests and land. They would have control once again of their ancestral and spiritual land. What we need to do is keep on asking the question – who really benefits from mining? Because if we stop asking, then we know who wins…and who loses.

Tags: developing countries, economic growth, ENVIRONMENT, migration, mining, Natural Resources, Papua New Guinea, poverty