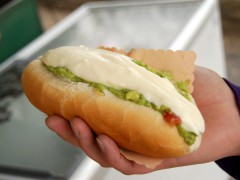 From the beginning of time, we have always invented and discovered new ways to live a healthy life and secure a reliable supply of food. In modern times we have secured food supplies by cultivating vast swathes of land and keeping large herds of livestock, and we are safeguarding our well-being by beating many diseases which were life-threatening in the past. Eating right is one of the best ways to ensure a healthy life. However, looking at the obesity index of many countries makes me wonder if the time has now come to think about whether we're eating right at all.
Taking Chile, if we look at the diet of youngsters, we find that a large portion of their daily food intake is junk food. As children we all had a special inclination to junk food, which is more easily available nowadays than ever before. Many international food chains provide a huge variety of tasty-hasty food, Burger King and McDonalds to name but two. Yet it's not just junk food, but traditional Chilean fare as well which cannot be considered very healthy for our young ones. For example "completo" the Chilean version of a heavy hot-dog is impressively topped with a massive amount of avocado mash, a smattering of chopped tomato, a bit of mustard and hot sauce, and – most importantly- a lot of heart-stopping, creamy, mild-flavored, homemade mayonnaise. And speaking of mayonnaise, did you know that Chile is the third largest per capita consumer in the world, and number one in the whole Latin American region. However, it's not just mayonnaise which makes a Chilean meal heavier. Ingredients like poultry products, pork, beef and others also contribute their share. Another popular national dish "chorrillana" consists of a giant pile of french fries, chopped up steak, fried onions and scrambled eggs, all fried, greasy, salty, decidedly delicious, but definitely deadly.
Domestic production and consumption of meat is increasing at a very fast rate. Consumption of all kinds of meat has doubled in Chile in the last two decades, against the backdrop of an annual population growth rate of 1.3% between 1990 and 2010. Chile again tops the charts in per capita consumption of Cola where it ranks second in the world. As a result of all these factors, Chile has the sixth highest level of child obesity according to the OECD (Organization for Economic Co-operation and Development). According to the World Health Organization, obesity affects 23.2% of the adult population in Chile making it one of the major causes of disease and death.
Recently, Chileans in social networks have begun to question their eating habits after the closure and all the fracas created by one of the largest pig processing plants in northern Chile. The public protest started because of the foul stench from the factory, and this led to the closure of the pig farm which belongs the food processing giant 'Agrosuper'. With the photos and videos of this pig farm showing the miserable conditions in which the pigs live, a pro-vegetarian group has started a campaign to convince people to become vegetarians. As a Chilean, I have always been somewhat of an outcast for being a vegetarian in a society where meat forms a major part of all the meals of the ordinary people. The recent campaign by the pro-vegetarian group to convince people to adopt vegetarianism is a good initiative to make people realize just what they are eating, and how much they are eating.
While vegetarianism might or might not help us fighting obesity and obesity-related diseases, reduced physical exercise and today's lifestyle – which leaves us with less or no time to take proper care of ourselves- are taking a toll on our health. The simplest and most effective way to change our lifestyle is to learn new habits, and slim habits, such as increased physical activity not only for adults but for youngsters as well.
Although all of this might seem obvious, obesity is steadily becoming an omnipresent health problem that is not receiving the attention it deserves. Chile is being increasingly affected by this epidemic which is also impacting on many other parts of the world. Millions of people will be afflicted with serious health issues if we do not take prompt action soon.
Tags: food, Health, non-communicable diseases, obesity, south america