Not a hand out but a hand up: Australians investing for the future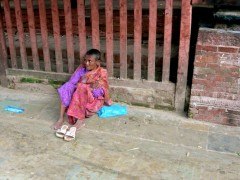 (Source: G. Lyons, Nepal, 2011)
Australia as an industrialised nation demonstrates a governance system that is stable, a growing economy and a rapidly expanding technology infrastructure.  However what are Queenslanders and Australian's as a greater community doing in order to assist nations that are economically struggling and fail to implement effective governance mechanisms? There are multiple companies based in Australia that focus on education, promoting employment, the economy and aid in developing countries. Furthermore, there are specific people who have devoted their careers to international aid and support.

Supreme Court Justice John Lyons has devoted the last 25 years of his life to working in developing countries, including Fiji, The Bahamas and most recently South Africa. His official position is to enter into third world countries sponsored by aid donor organisations and The Commonwealth and set up commercial court systems to works towards establishing a functional judiciary system. "I always meet opposition," Justice Lyons said.
"The judges are all part of the ruling elite system. Recently in Lesotho, in the last two years there have been ten violent attacks on political personnel. So I guess there are consequences." Justice Lyons said.
Justice Lyons is currently placed in South Africa under a 'Good Governance Programme' that follows the 2015 Millennium Developing Goals that will ultimately eradicate poverty in developing nations. "The general idea is to improve governance and their governing infrastructure so that investors will be confident to invest big money in developing nations," He said.
According to statistics from The Quarterly Labour Force Survey of South Africa, 25 per cent of the population is unemployed. "The major employers in these countries are the civil services or the government. There aren't many private employers, however there is a lot of entrepreneurship I suppose you would call it. Which means selling from make-shift stalls selling trinkets."
"60 per cent of the population in Lesotho is under 35, the government sets up a university and the kids go but once they graduate they can't get jobs. No one is prepared to put in the money to set up businesses and ultimately this is because of bad governance. It's a vicious cycle," Justice Lyons said.
Based in Vietnam, is a company named KOTO. Every six months KOTO recruits around 30 trainees from the streets of Hanoi, aged between 16 and 22, to undertake a 24-month intensive program in necessary employment skills, English language and hospitality training. KOTO training ensures that graduates are prepared to enter the workforce and actively participate in their communities.
Ultimately KOTO works as a social enterprise that provides a positive change to the lives of disadvantaged youth and youth who may live on the streets. They are a visionary company that aims to become internationally prominent and successful. "Wherever there is abandonment, neglect and abuse, we will be there." According to the KOTO Website.
Most recently, KOTO has collaborated with a Melbourne based business called Small Giants. The Small Giants began in 2007, and now strategically work to create and support other small businesses nationally (Australia) and recently, in Vietnam. They specifically focus on creating environmentally sustainable and socially equitable businesses.
Small Giants and Koto Graduates opened a restaurant called 'Pots 'n Pans' in Hanoi in March 2012. The partnership not only expands The Small Giants client base into an international territory, but also promotes employment in Hanoi and essentially contributes to the development of small businesses in Vietnam.
Simon Matthee, Chief Finance Officer from Small Giants, set some time aside to discuss the opening of Pots 'n Pans, and says "there was a great feeling in the room."
"Vietnam is a very interesting project. We have known Jimmy (Pham) from KOTO for a long time. Jimmy works hard and has spent his whole life trying to get nations to join KOTO,
"When he came to us, we said lets look at doing something better. Rather than just a donation of x-amount, lets spend that on a commercial restaurant. This would help graduates and make profits that would go back to KOTO, this makes the business sustainable." He said.
The crux of the project from Small Giant's perspective is to conduct businesses in new, inventive and successful ways.
"Small Giant's is about building relationships, especially internationally. By knowing people from KOTO on the ground, this made the first step easy. But I doubt this will be our last investment internationally."
"The business had to ensure employment for KOTO graduates. A restaurant in Vietnam allowed us to get our head around and we had the expertise needed for the project, Pots 'n Pans mixes Western and Vietnamese culture."
Mr. Matthee said at first, he found it hard to get his head around the chaos of Hanoi.
"The opening was incredible, it was amazing to see how big of a deal he opening was culturally. The Australian Ambassador was there and he gave a speech."
According to Mr. Matthee, there are approximately 20 graduates working in the restaurant, this is expected to increase once summer hits, and peek season arrives. The partnership between KOTO and Small Giants will primarily support development of small businesses in the Hospitality industry, endorsing KOTO's ultimate goal and initiative.
Overall, it is evident that there are Australians working in developing countries not only in aid but also in smaller ways to help these countries take small steps to better governance and community support. Although figures suggest that unemployment rates are skyrocketing, there are companies and individuals working enthusiastically and dynamically in order to offer more employment opportunities.
Tags: developing, economy, foreign aid, hand up, investment, job creation, work