Finding a Job, Changing a Market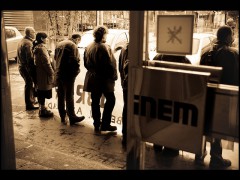 The European sovereign debt crisis has translated into a long-term conjuncture of high unemployment and little growth. Since its inception in late 2009, and through the still ambiguous measures that have been taken in order to restore confidence in Europe, the youth have been one of the most affected groups. Tales of a lost generation abound, both in dry statistics and in the restless frustration venting from Lisbon to Athens. However, some of those undefeated by the shadow of depression have decided to follow their elders who, in generations past, set off to build lives elsewhere. In the 1990s and 2000s, the word "migration" in Europe evoked images of peoples from all over the world trying to settle in Western Europe. Today, the same word casts light on Europeans flying to the so-called emerging countries.
Due to cultural and historical links, as well as economic momentum, Brazil has become a prominent destination for fresh graduates and young professionals unable to earn a living. While in modern times the country has been used to being a migration destination, this flux is somehow different from the waves of Europeans, Asians and other Latin Americans who made Brazil their home in the twentieth century. In the past, migrants to Brazil were little educated and sought mostly industrial or agricultural jobs. With undergraduate and often also graduate degrees, the new generation of Europeans in Brazil has its eyes on liberal professions, engineering and management roles.
Europeans soon realize, however, that many institutions in place in their home countries – more transparent labor markets, anti-nepotism policies – cannot be taken for granted in Brazil. A good resume will not suffice, and one needs connections. As a former Brazilian student abroad, I have thus received countless messages regarding job inquiries, resume formats, and networking events. Europeans are ready to bend to the Brazilian job market rules, with its informality and opaqueness. While academic papers and media articles used to contrast this with a "fairer" job market in developed countries, this issue appears not to be relevant now. On the contrary, networking is unquestionably esteemed to be the primary skill in finding a job in Brazil.
It would be naïve to ask Europeans to act otherwise. Out of better choices in their home countries, alone in the quest for a living, they would be fools to stick to job boards or online applications. However, this new migration movement also represents an opportunity to gain a more critical perspective on how employment is conducted in Brazil. Building on their job-seeking experience in Europe, and on the increasingly demanding emerging classes in Brazil, we should ask ourselves: what is the limit between networking and social collusion? Why can't we achieve more transparency in job postings and interviewing decisions? All of this underpins a fundamental question: how can Brazil improve its labor markets to gain productivity and more fully realize its potential?
Historically, migration movements have been associated with social and political changes in the host countries. The new wave of qualified workers coming to Brazil is a golden opportunity to ponder a change to the status quo. Finding jobs is not only an end in itself for these young, ambitious migrants but also a way to help build a more accessible and fairer market for all those in Brazil.
Tags: cultural differences, economy, job market, unemployment