Solar Power for Development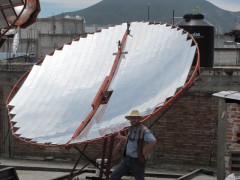 Mexican sun and German technology are the two key components of Gregor Schapers' innovative project. Deep in rural Mexico, in a small town of 450 inhabitants called El Sauz, Schapers, a German entrepreneur, founded Trinysol, a firm specializing in building cheap solar reflectors for small local businesses to bake, cook and fry food, or generate steam as an energy source.
Recognized by the Siemens Stiftung with the 2013 empowering people. Network´s Community Price, Trinysol has the potential to offer local producers an alternative to costly fossil fuels. By replacing traditional energy sources with solar power, both environmental damage and small businesses' costs are lowered, creating a direct impact on the local economy and environment.
But what exactly does Gregor´s team do? Trinysol manufactures and installs "Scheffler reflectors" made out of steel and highly reflective aluminum. These devices are powered by a sensor-controlled motor that enables them to automatically turn toward the sun, focusing their light on one specific point that reaches temperatures of around 1,000 degrees Celsius. This concentrated energy can afterwards be used either directly in a kitchen, oven or boiler; or stored in the form of steam in an absorber that is connected to a pressure tank.
"Tortillería La Fe," one of the first businesses in which Trinysol´s solar reflectors have been installed, uses this innovative technology to produce and store power. According to Gregor, the shop used to spend around $1,150 dollars each month for the gas required to cook corn for making tortillas, and now, it gets energy for free – except for occasional maintenance. Just imagine the benefits this model could bring to Mexico if it were applied not in one, but thousands of tortillerías around the entire country.
When I first arrived at El Sauz, Cardonal, I was expecting to meet a man claiming to save the world with his benevolent enterprise. Instead, what I found was something so much better, a man who believed in the power of the market to promote development and generate better conditions for the poorer population.
"What I do is a product, if the people like it because it is useful and it will lower their production costs, they will invest on it. Otherwise, they won't." Gregor believes so much in his product that he has personally invested in several creative applications for it. For example, he uses some of his solar reflectors to generate steam for producing Agave syrup (a typical product of the region), or even better, he built his own sauna that works entirely with sun power.
It is a common mistake for society to think that social entrepreneurs must sacrifice their own well being in order to help other people, but Gregor´s case proves this idea entirely wrong, beneficial initiatives can also be self-sustainable. Differently from other projects with a social approach, this company doesn't require external funding or donations; instead, it rather generates its own income.
What's most important about Trinysol besides being self-sustainable, is that it has the potential to promote the creation of jobs and raise productivity within rural low-income communities with limited access to basic services and working opportunities. Little by little, Trinysol´s workshop has continued to grow and it is now operated by 9 employees, all of them locals.
Although Trinysol is still a young organization, it is a project with a huge potential both as a profitable business and as a tool for fostering development in Mexico. Small bakeries, restaurants, tortillerías and many other establishments could all benefit from access to alternative energy sources for increasing their earnings and offering more job opportunities. It simply seems that sometimes the most complex problems require the simplest solutions.
 This post was created for the Siemens foundation. The blogger was compensated for this work with the amount also covering any travel expenses.
Tags: alternative energies, Empowering People Award, Gregor Schapers, Social Enterprise, Social entrepreneurship, solar energy, solar power, sustainable development, Trinysol