Inclusive Growth and Sustainability: Buzzwords or real 21st century challenges?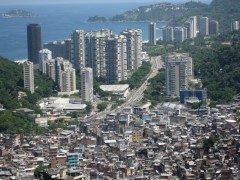 Traditional models of economic growth often disregard individual well-being in their focus on expanding the economic power of a country or region,  while GDP growth is matched, perhaps paradoxically, by a noticeable increase in inequality as measured by the GINI coefficient and other benchmarks. The recently launched  OECD Initiative on Inclusive Growth  examines economic models where the benefits of economic growth are equally distributed throughout society, combining "strong economic growth with improvements in living standards and outcomes that matter for people's quality of life (e.g. good health, jobs and skills, clean environment, community support)."
Do growth and improvements in the daily lives of citizens go hand in hand? When do these interests diverge? What are the (institutional) prerequisites for convergence between the two? What are examples of efforts made in your country or region to support growth which also take full account of inclusiveness?
What do citizens and policymakers understand by inclusive growth in your country? How realistic is this concept? Or is it perhaps something that only developed countries can achieve?
Here are some initial responses from our bloggers from the recent Global Economic Symposium (GES) in Kiel about their own regions:
D. C. Costache, Romania:
The main topic of this year's GES was Redefining Success. The growth paradigm and our endless quest for capital are now showing their limitations and we need new and more inclusive definitions of what it means to be successful and to set goals that are achievable in a sustainable manner. Because, while money may make the world go round, in emerging markets and even in semi-developed economies like my native Romania more money (for an individual or government body) does not necessarily translate into better services and societal improvements. We need a new paradigm, one that goes beyond the GDP and measures the actual impact of growth on peoples' lives and communities. That being said, to paraphrase John Hope Bryant, money isn't everything but for a lot of the working poor it's a nice place to start.
Mubatsi, Uganda:
In a bid to ensure inclusive growth, the Ugandan government has come up with a number of development programs that aim at eradicating poverty. One such program is "Prosperity for All" whose avowed aim is to increase the level of household income for every Ugandan citizen. Measures envisioned by the program include modern agricultural practice, added value for agricultural produce, job creation, provision of free education at the primary and secondary level, and leverage of the favourable investment climate in the country.
Juan Arellano, Peru:
While ten of the world's fifteen most unequal countries are to be found in Latin America, the region has kept on the growth track despite the global economic crisis. But how long will this last? Most Latin American countries have not taken advantage of such growth and have not implemented any exit strategy from the basic goods export model. At the same time large swaths of the population are anxious and uneasy and social conflict is on the rise. Even though it should be glaringly obvious that  governments need to address the issue of  inclusive growth as a matter of urgency, it is extremely difficult to reach consensus among all the parties concerned on how to do it while the voices of those asking for a switch of model or respect for traditional native values are never heard.
Dominika Kaczkowska, Poland/the Netherlands:
Being born and raised in Central Europe but now living in Western Europe makes me realize acutely what very different approaches countries take to economic growth. At the moment it seems that Poland is continuing with its neoliberal approach whose main aim is growth in numbers in an effort to 'catch up' with the old member states of the EU. On the other hand, countries like the Netherlands take a much more inclusive approach to growth to make people feel safer in their lives and much more part of the community. As such, inclusive growth appears to be a luxury that only states in an advanced stage of development can afford rather than a viable choice for any country.
To read more from the GES bloggers, please click here.